How It All Started
Hey there,
This is a little bit about me and how I started this blog.
My name is Surej Shams. I first started Digitug with the idea of helping small businesses in setting up their social media accounts and campaigns.
After finishing college, I worked for a couple of years in Sales roles and felt more like I'm reaching nowhere, I was somehow hopeless.
I wanted to do something that I really loved, something where I could use my best skills. I liked writing content, social media and was a fan of great looking websites.
All this brought me to this idea of starting a small digital agency.
As I slowly took the steps to make this dream come true, my ideas got more streamlined. Instead of an agency model, I chose to focus more on value addition to people seeking help in Digital Marketing.
And that took me here.
Today, I offer exclusive tips on Digital Marketing, Blogging & Productivity on this website. My aim is to help people who want to learn Digital Marketing for them and for their business.
I also offer consulting services to small businesses and entrepreneurs who need help in setting up and growing their digital presence.
I would be really happy if you learned something new from one of my resources. And feel free to reach me on mail@digitug.com if you're looking for some help.
All the best,
Surej Shams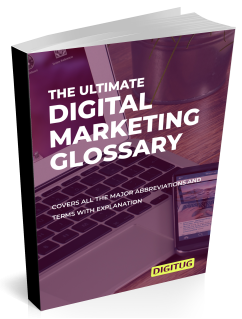 The Ulimate Digital Marketing Glossary
Just sign up below and grab your copy right away
Resources for a Digital Win