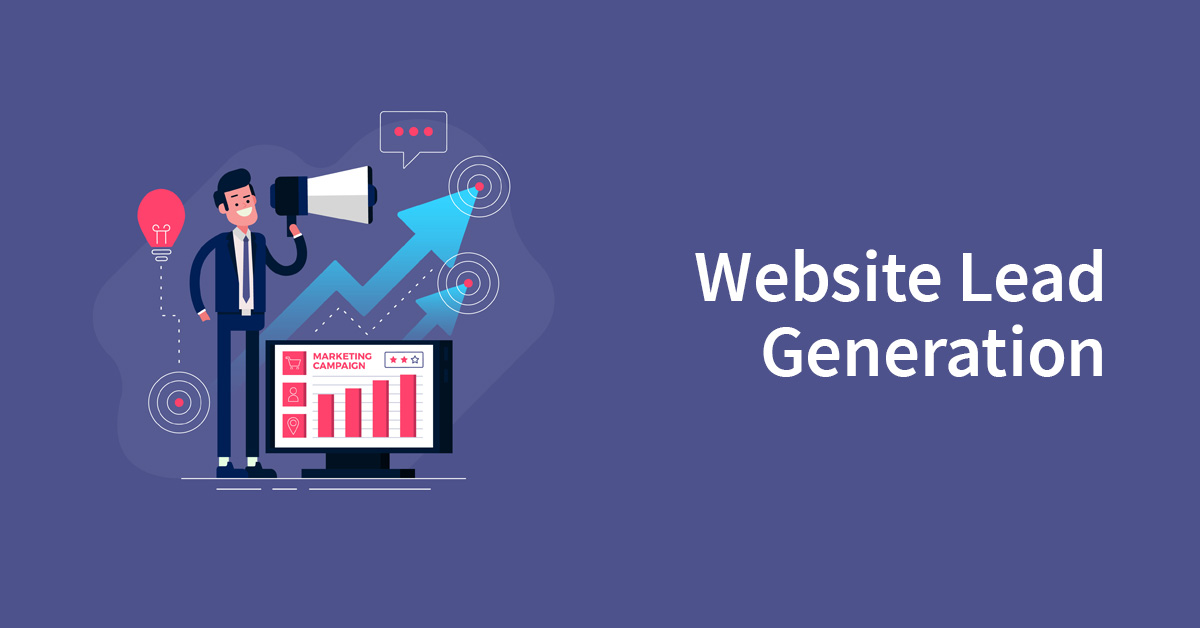 One of the core motives behind having a website today is generating new leads or customers. 
And if your website isn't generating any new leads even in 2020, you really need to rethink your marketing strategy.
In this blog post, we'll discuss how you can generate highly qualified leads from your website by making a few small changes on the website elements, the traffic that you're receiving and the way you interact with your prospects online. 
Let's dive into the details and find out how you can make use of these methods to generate qualified leads from your website.
How to generate qualified leads from your website
There are 2 essential components to generating qualified leads from any website. 
High converting landing pages

Targeted traffic 
When you combine these two, you will be able to generate qualified leads out of your business website.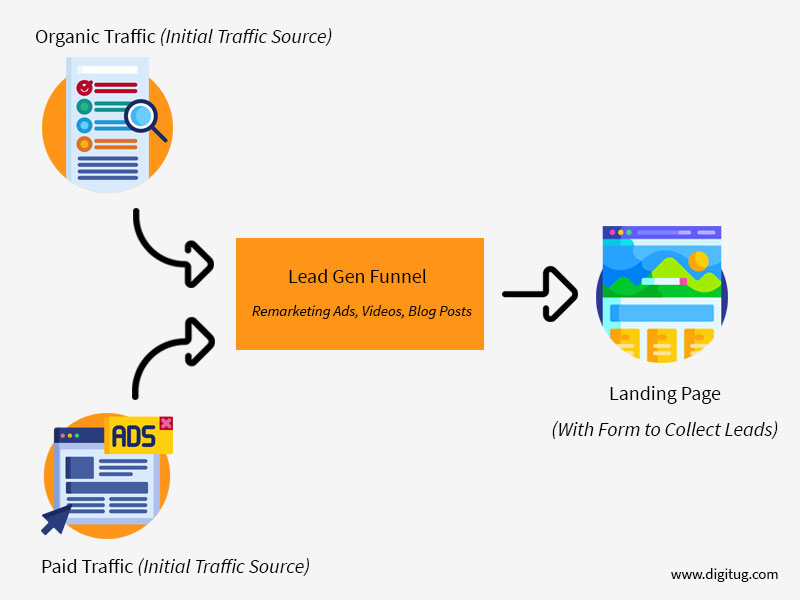 Now, let's look at how you can create high converting landing pages and drive highly relevant targeted traffic into it.
How to create high converting landing pages
Landing pages are the most important aspect of any high converting website. 
While building landing pages, you need to ensure they have all the elements that will help you convert a visitor into a lead. 
Here's what you need to have in mind while creating high converting landing pages for your website. 
Have dedicated landing pages for all your products/services (not just a common landing page)
Landing pages are web pages created with a specific motive. This motive can be filling up a form, signing up for a trial or even downloading an ebook. 
It's important for you to have dedicated landing pages for all the products or services that you are trying to sell. Having a common landing page for all your services/products isn't a good idea. 
And make sure your landing page is driving your visitors into taking an action that will finally guide them to becoming a qualified lead. 
Make your messaging crisp and clear
I can't stress this enough, it is super important to have a clear messaging on your landing pages. 
Once a visitor lands on your product or service page, he or she should be able to understand what you're offering and how it is beneficial to them. And it should be quick, as human beings have an attention span of only 8 seconds.
Ideally, the headline placed above the fold on your landing page should explain your offerings in a quick and easy to understand manner to your visitors.
Have an offer
When you drive traffic to your landing pages, it is essential to have an attractive offer. 
After all, you don't want your visitors to leave your site without becoming a lead, right?
Once you have explained your product or service (above step), an offer can be combined along to generate leads. 
Let's look at these examples. 
30% off on all insurance policies

Free 30 minutes consultation

Free SEO audit template

Join the free webinar
Offers like these are a great way to convert your traffic into leads. These downloadable files (like free SEO audit template) which are offered to convert visitors into leads are called 'lead magnets'. 
Have a clear call to action
Just like the 'clear messaging' on your landing pages, it is essential to have a clear call to action. 
Place your CTAs right below or next to your core messaging part and tell your visitors what needs to be done and what to expect when they click on your CTA button.
Here are a few points to note while optimizing your CTA button.
Be specific with your CTA. (

Eg: Book a Free Consultation, Sign up for a Free Trial)

Make your CTA button's colour stand out. (

Use bright colours)

Place it above the fold. 

Make the CTA text size noticeable enough.
Bring-in more credibility
This is an important aspect in turning your traffic into qualified leads. To fill-up your form fields with relevant contact information, your visitors need to have some sort of trust in your brand and the services that you offer. 
Here are a few points that will help you bring-in more credibility to your landing pages.
i) Add relevant client testimonials
Your successful clients recommending your service is a good way to attract more leads. You can include testimonials from entrepreneurs, CXOs, industry experts etc. 
Adding their full name, designation with company name and photograph along with testimonial will make it more appealing. 
You can also add screenshots of testimonials or reviews from social media sites like Twitter or Facebook to make it look more realistic. 
Another more effective way is to use video testimonials. These video clips have better engagement and can greatly help in building trust. 
ii) Add client logos
Client logos are a widely used method to bring more credibility to any website. It's better if you have some known brands listed as your clients. 
Include your client logos at an easily visible area on your landing pages.
iii) Add live-chat option for instant sales support
If you have a live-chat option on your website that can respond instantly to visitor queries, that will help you turn your visitors into leads easily. 
But there is a negative side to it. 
If you have a chat option on your site and it fails to respond to visitors instantly or if the response is delayed, it can only create a bad image about your brand in front of your customers. 
To offer better sales support through live chat on your website, you can either outsource the task to chat agents who work around the clock or mention the availability of live chat facility with respect to work hours.
Below are some of the popular live-chat applications that you can use on your website. 
Live Chat

Zoho Sales IQ

Tawk.to (chat agents available)
Some of these applications can notify you whenever a visitor lands on your website and you can initiate a chat from your end to proactively address your customers' queries. This is a highly effective method to turn your visitors into leads. 
Now, another option is to use chat-bots. 
Interestingly, many companies these days are relying on chat-bots to provide sales support and generate leads. These applications will help you answer customer queries with a predefined set of answers. 
There are Facebook messenger marketing applications (chat-bots) like ManyChat and MobileMonkey that you can use on your website to provide sales support and to generate leads. 
Having an instant sales support option on your website or landing pages will help you answer customer queries faster and convert more visitors into leads. 
iv) Add FAQs
People landing on your web pages will often have a lot of queries and they could be doubtful before they become leads or paying customers. 
The best way to address this is to add a set of Frequently Asked Questions (FAQs). You can add FAQs at the bottom of your landing page covering all the important aspects of your product or service. 
Ideally, it should explain how the product or service will help your users, how the product or service will be delivered, the different pricing options available and any other aspect that will bring more clarity and transparency to your target customers.
Create urgency
Creating a sense of urgency will make your visitors convert into leads better. 
This can be done by creating a limited period offer or by creating an offer that is limited by number of entries. 
Let's look at a few examples. 
Free Webinar: For first 100 sign-ups only

Free SEO template download: Available only for the next 12 hours (include a count-down timer)
Everything we discussed above are the various ways to convert people who visit your website into leads. So that you can reach out to them again, add value and convert into paying customers sooner or later. 
Now that we have a website that is 'lead generation friendly', meaning it can convert traffic into leads. So, the next thing that we need to focus on is finding relevant traffic. 
Let's dig deep a little to find out more. 
How to find targeted traffic?
There is always an initial source of traffic from where users will get into your website. They could land on one of your pages, blog posts or even on your landing page itself. 
Once the users are on your site, there are options like remarketing which can be used to reach them again, but we'll discuss that part in the upcoming sections where we discuss funnels. 
There are mainly 2 methods that you can employ to find initial traffic to your website. 
Organic

Paid
The main organic methods that you can count on are SEO & Social Media Marketing.
SEO is still a reliable channel to bring quality traffic, whereas the organic reach on social media is ever diminishing. 
However, you can still generate organic traffic from channels like Facebook, Instagram, LinkedIn, Pinterest, Quora, YouTube, Twitter etc. 
From my experience, LinkedIn currently (as of 2020) has excellent engagement and can help you get relevant organic traffic to your website. 
And when it comes to paid advertising, there are multiple channels that you can leverage. But for lead generation, the popular channels used are Facebook, Google and LinkedIn.
Out of all these channels, SEO, Facebook Ads (including Instagram) & Google Search Ads are my personal favourites for lead generation. 
However, you can always leverage other options like LinkedIn ads, Quora ads, Snapchat ads and other native ad platforms.
Search Engine Optimization
If you have a new website, SEO might take some time to fetch you results. But it is always worth investing your time and money in it. 
Depending on your niche, competition and location SEO can turn hard or easy. Here are a few tips to drive more relevant traffic from SEO. 
Target keywords with buyer intent. 

Target long-tail keywords that have lesser competition. 

Target location based keywords if you are a local business.

Leverage content marketing and drive traffic from your blog posts to landing pages. 
If you need more details on choosing the right kind of keywords for SEO, refer to this detailed guide here. 
Facebook Ads
Facebook ads are a powerful way to generate leads for any business. You can rely on 2 types of campaigns on Facebook to generate leads. 
Lead generation campaigns (using the in-built lead forms)

Conversion campaigns (using a dedicated landing page on your website)
As we are talking about website lead generation in this article, our preferred method here will be the 2nd one, which is conversion campaigns. 
The 1st method is comparatively easy to set up and will often help you get leads at a better cost. But the 2nd method is proven to give better quality leads even when the lead cost is a bit higher. 
Google Search Ads
Google search ads are an excellent way to get 'bottom of the funnel' traffic (I've explained about it in the coming paragraphs) into your landing pages. Here, you can always target keywords with conversion intent to generate high-quality leads. 
When compared with Facebook ads, Google search ads often help us generate highly qualified leads. However, the cost for Google search ads will depend on the keywords that you choose to target. The CPC (cost per click) for keywords will vary according to its niche, competition and location. 
How to build a lead generation funnel
Well, before we move to the funnel creation step, you should have a proper understanding of the concept of 'buyer's journey'. Buyer's journey depicts the different stages through which a customer will traverse before finally making a purchase or becoming a lead. (see below image)
Normally, sales funnels built on the internet are mostly based on this concept, and we can use the same concept to build out lead generation funnels as well. 
As seen in the above image, there are mainly 3 stages the customers will go through. 
They are;
Awareness (top of the funnel)

Consideration (middle funnel)

Decision (bottom of the funnel)
While building lead generation funnels, we have to create content and landing pages that cater to these 3 stages. 
Now, let's look a bit deeper into the different stages of a lead generation funnel. 
1. Awareness Stage
As I said earlier, not everyone who visits your website or landing page for the first time converts into a lead. This is because they aren't just ready to become one, i.e. they could be in the awareness or consideration stage of their buyer's journey. 
At the awareness stage, a person is aware of a problem that he or she has and will be more interested in finding solutions for the problem. 
Let's take the example of a person who wants to lose weight quickly. He'll obviously be looking for solutions that will help him lose weight fast.
But if you show him an ad to a weight-loss supplement or a weight-loss training program and lead him to a sales page or a lead generation form, he may not convert instantly. Because, he is still looking for more solutions to his problem and could also be comparing multiple solutions. 
In this scenario, to pull him into your funnel, it will be better to create targeted content that talks about 'solutions' to his problem and then drive him on to that page. 
This type of top of the funnel content including blog posts and videos are a great way to drive users into your funnel. 
Let me show you how you can do it with the help of Facebook ads by taking a weight loss supplement brand as an example. (see below image)
This is just an example, and certainly this is not the only way to attract users into your funnel.
2. Consideration Stage
When a user is in the consideration stage, he's already aware of a few solutions to his problem and he is comparing different options. 
To target users in this stage of the buyer's journey, you can create content that compares your product or service with others'. Content pieces like this are a great opportunity to let people know more about your product or service and its unique offerings. 
Let's take the same weight loss example here to explain a bit deeper. If you are a brand offering weight loss supplements, you obviously want to create content that compares your supplement with other available products. 
E.g. Your weight-loss supplement vs. green tea for weight-loss
This stage can often be considered as an objection handling session. If you think your prospect is not really sure about your solution or maybe he wants some more details about your solution or the way it works, this is where you can address them all. 
In this stage, if you can create quality content that adds value to your audience, it will be much easier for you to drive them further through your funnel. 
Let me show you how you can do it using the same Facebook ads example. (see image below)
3. Decision Stage
This is the final stage of the buyer's journey funnel. This is where you want your users to reach at the end. 
When a user is in the decision stage, he has already decided about getting one particular solution for his problem. That means he's ready to make a purchase or he's interested in your product or service. 
This is the stage at which you want to drive your users to your landing pages and convert them into a qualified lead. 
And make sure you integrate all the important elements that we discussed above into your landing pages. 
Now, see how it works with the same example above. (see below image)
Like this, once you have understood the different stages of the buyer journey, you can create targeted content and funnel your users to conversion. 
Now, the above example is not the only way to do it. 
A lead generation funnel normally can have different steps including ads, blog posts, videos, case studies etc. 
And it will often take a number of tests and optimizations to find the perfect working funnel. 
Before we move to the next section, let's look at a few points that will help your funnels work better. 
Create appealing headings for your top of the funnel (awareness stage) content. Convert maximum impressions into clicks. 

If you have a high-value product, the length of your funnel might want to be longer enough to convince your audience. 

Make sure your top of the funnel content is adding enough value. 

Personify your offering by tying it to a human face. If you have a personal brand built already, it will be much easier to personify your offering. 

Lead generation is comparatively easier than selling products online. But getting highly qualified leads is the real challenge. 

Building a community through email lists, messenger marketing or Facebook groups is a good idea to get highly relevant and qualified buyers. 
Analytics & Tracking
For any website to get better at lead generation, proper tracking mechanisms are a must. Ideally, you should know your traffic sources, their behaviour and the actions they are taking on your site. 
Here are some of the must-have tools to get hold of proper web analytics. 
Google Analytics & Tag Manager
This might sound silly if you aren't a noob. But Google Analytics, as a free tool, is good enough to track many important metrics on any website. 
For better lead generation, track the following. 
Number of visitors to your website

Traffic sources

Pageviews and top pages viewed by your traffic

 Landing page views

Time spent on page

Bounce rate

Goal conversions (very important)
You can track all the relevant actions of your visitors on your website using goal conversions. You can set multiple goal conversions for landing page views and lead submissions. 
Now, if you need to track more specific events like button clicks, form submissions and video views, you can make use of Google Tag Manager. You can create custom events within GTM (Tag Manager) and use those event parameters to create goals within Google Analytics. 
All these tracking options will help you understand the path your audience is taking before finally becoming a lead.
Google Search Console
If you rely on organic search traffic to generate leads, you should always have a check on Google Search Console. 
It will show you all the keywords that you are ranking for and the keywords that are bringing you clicks and traffic. The tool will also show you the variations in your keyword rankings and you can monitor and control other organic search-related parameters in this tool. 
Facebook Analytics & Pixel
If you generate traffic from Facebook, there is little you can do without the help of Facebook pixel. For conversion campaigns to run, you should have the pixel code installed on your website and events created for tracking. 
Make the best use of Facebook ads metrics like impressions, reach, CTR, conversion rate, cost per lead etc. 
All these tools will help you track and optimize your lead generation efforts on your website. 
Nurture your leads
Even when your efforts are towards generating qualified leads, not all leads are going to convert into paying customers. 
But you can nurture your leads to maximize conversions. 
In most cases, businesses collect the full name, email and contact number of their website visitors through forms. Once the lead is received, you can contact them through the phone for an immediate response and also share a few details on your offering through email. And if you find out the lead is not warm enough or not ready for conversion yet, they can be added to the lead nurturing list. 
One way to do this is by using email marketing. Email marketing when used correctly has the best ROI when compared with all other marketing channels. 
You can combine automation with email marketing to deliver a series of value-adding emails at preset intervals to your list to be nurtured. 
The automated value-adding email series can be coupled with a few soft selling emails in the end. And depending on the response from the recipient, actual sales emails can also be tried. 
Now, this isn't a one size fits all solution. Depending on your industry, offering and product/service value, your lead generation funnel and nurturing methods have to be adjusted. 
Lead Management
Now that you know how to generate qualified leads and nurture them further. To make the process a lot smoother, you can follow certain lead management processes. Below pointers will explain how you can do it. 
Use a CRM (Customer Relations Management) application to store, track and allocate your leads. If you are a small to medium sized business, get started with an economical one like Zoho or Vtiger. 

A CRM application will help you store your leads and allocate each of them to your sales executives. The executives will be able to update their comments and status of each lead after follow ups. Some applications allow lead scoring, where your executives can rate a lead based on its quality or probability to convert. 

You can also automate the process of creating a lead in the CRM by connecting your website with the CRM application. So whenever you receive a lead on the website, it will automatically be added to the CRM and from there your sales team will be able to follow it up further. To automate the process of lead creation, tools like Zapier comes in handy if you have a WordPress site. 
Having a CRM and lead management system will help you track all your leads and will be helpful in analyzing your lead conversion rate and even your revenue. 
Conclusion
I have tried to cover everything that I know about lead generation in this article. The 2 main components that you need to generate leads from your website are targeted traffic and high converting landing pages. 
And for generating high-quality leads, create a working funnel model to drive your traffic into your final landing page. 
I hope the strategies that I have explained here will help you generate more qualified leads from your website. 
Leave a comment if you have a query or feedback. 
All the best.