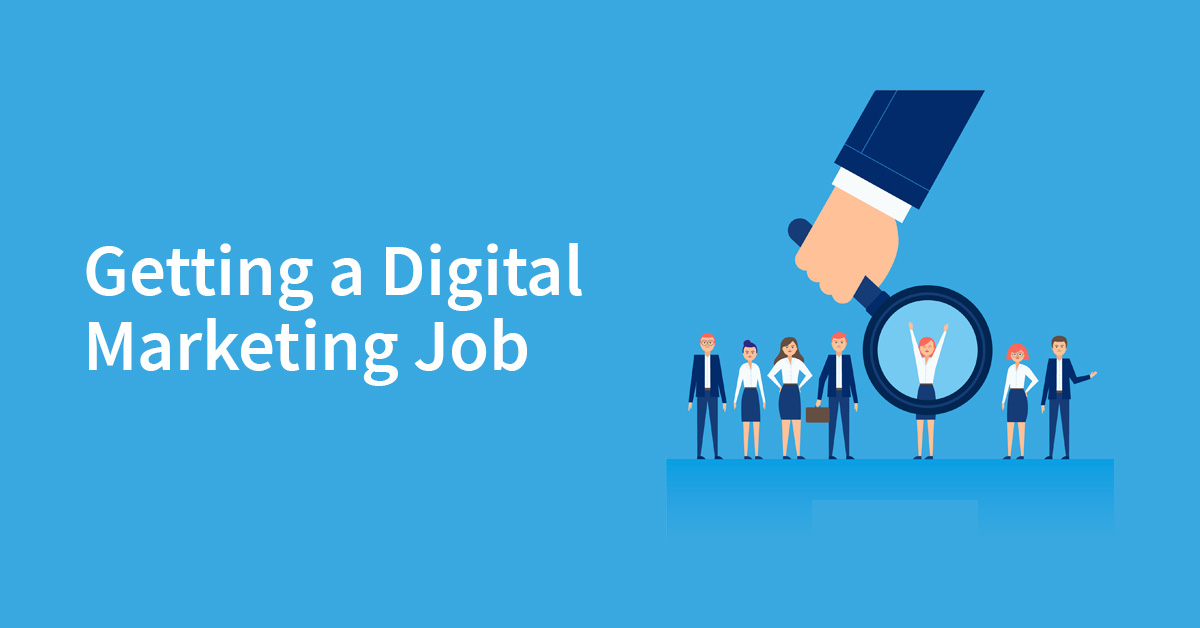 If you are wondering how to get a Digital Marketing job and kick-start your dream career, you are in the right place.
In this article, I'm going to list down 9 actionable tactics that I have personally used in my career to land on a Digital Marketing job.
Just follow these 9 steps here, and you will be able to land on your dream job as quickly as 3 months.
So let's jump right in.
1. Understand Digital Marketing & its branches
Don't just jump in because your friend is into it or you think it sounds cool to be a Digital Marketer. 
Understand what is Digital Marketing and the different branches of it. You should also have an idea about the essential skills that you need to become a successful Digital Marketer. 
There are 5 important branches in Digital Marketing as given below. 
Search Engine Optimization

Search Engine Marketing

Social Media Marketing

Email Marketing

Content Marketing
Also, you should know what each of these verticals are. This is very basic, you don't need to learn all of these overnight, but just need to have an idea about how these verticals work. 
For example, by the term SEO or Search Engine Optimization, you should know that it is the practice of optimizing websites for a better (top) position in the search results. 
Information about these 5 verticals are available all over the internet. You just Google it, and there you go. 
And about the skills; different verticals within Digital Marketing require different sets of skills. 
For example, if you are a creative person who is good at creating content, you can build a career in social media marketing or content marketing. Whereas if you are someone who loves numbers, you can look for a career in PPC or Analytics. 
So before starting your first Digital Marketing lesson, make sure you have a thorough understanding of the different verticals, skills required, career options etc. 
2. Start learning from free resources online
When it comes to Digital Marketing, there are tonnes of free content available online in the form of blog posts, videos, e-books, infographics, podcasts and so on. 
Once you have an idea about the different verticals or branches within Digital Marketing, you can look for free lessons online that range from beginner to expert level. 
I would like to mention a few of my favorite places where you can learn from. 
And of course, you can learn from my free resources here on digitug.com.
3. Join a Digital Marketing course
Joining a Digital Marketing course will help you go through a structured curriculum. This will also help you gain a deeper understanding of the various verticals within Digital Marketing. 
There are two types of courses available these days. Online courses and offline ones offered by local institutions. 
But before joining any course, make sure it is worth investing in. 
For online courses, you can check the course inclusions, topics covered, reviews by other students etc. As there are multiple platforms and experts offering online courses, you can compare prices as well. 
Platforms like Udemy offer good courses at a very affordable price. 
However, if you are planning to join a local institution, do some thorough background check. Ask other students who have done the same course and check their syllabus in detail. Importantly, make sure you are getting some hands-on training from there. 
Some institutions also help students to land on a job or internship after their course. Just talk to the institutions and see how many of them are offering this facility. 
You can also compare multiple institutions in your city to find out which one offers the best course. 
4. Get certified by Google and HubSpot
Google and HubSpot offer free courses on various Digital Marketing topics. You can log-in to Google Skillshop and HubSpot Academy to join these courses.
These courses contain lessons in the form of videos, images and text. The best part is, you can take up these courses and attempt an online examination to get certified for free. 
You can add these certificates offered by Google and HubSpot to your resume to make it stand out in front of employers.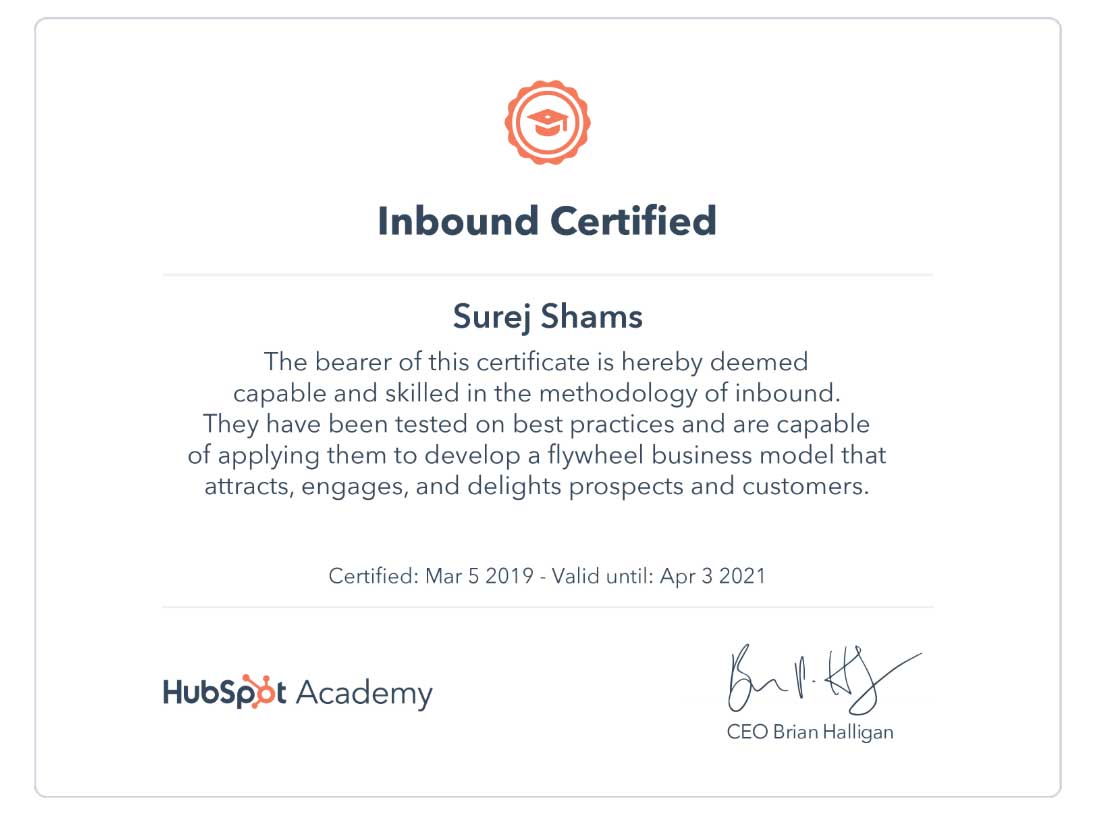 In Google Skillshop, you can get certified on Google search ads, display ads, shopping ads and so on. 
In HubSpot Academy, they offer courses on Inbound Marketing, Content Marketing, Sales, Email Marketing, Social Media Marketing and many more. 
5. Join an internship 
Getting an internship is the ultimate way to gain hands-on experience when you are a fresher. 
Internships can be paid or unpaid. Some good companies offer a monthly stipend to the interns. But I would say, this shouldn't be a priority when you are just starting out. 
Even if you land on an unpaid internship, take it up for the learning and hands-on experience that you are going to receive. 
You can look for internships in in-house marketing teams as well as marketing agencies. But a Digital Marketing agency can get you much more exposure to this field as you will be dealing with multiple clients. 
However, look for good companies and importantly look for learning. An internship can always push you one step closer to that dream Digital Marketing job. 
6. Look for freelance gigs
If you are ready to put in some extra effort, you can easily land on a lot of freelance digital marketing gigs these days. 
There are enough small businesses out there who want to get into Digital Marketing. And they all need people like you. 
The first thing that you need to take up a freelance gig is confidence. 
The truth is, if you are passionate enough, you only need one chance. You will learn by doing it once, and you can just replicate it thereafter. 
If you know how to set up paid ads, do SEO and manage social media, go for it. Convince people and take up works. 
Give them an assurance that they need to pay only after you show them the results. This will make it much easier to get into gigs. But at any cost, you should be able to provide the results. In case if you get stuck somewhere, don't hesitate to look for advice online or among your network of friends and mentors. 
Once you deliver your first work successfully, you can easily get on to other gigs through reference and also by showing your previous works. 
When I started my career in Digital Marketing, I was lucky enough to get multiple freelance gigs ranging from Facebook ads, Google ads and WordPress websites. 
You can look for freelance gigs in Facebook and WhatsApp communities, on sites like Freelancer.com and Fiverr.com and other forum websites. Also, you can make use of local networking events and references to land on freelance projects easily. 
7. Start a blog
Even when you do an internship or work on a client project, you have limitations. You need to deliver results without messing up things. 
But starting a blog will give you an immense amount of opportunities. You can learn everything by doing, and experiment things without anyone restricting you. 
As a blogger, you'll get to learn the following aspects of Digital Marketing. 
WordPress CMS

Social Media Marketing

Content Writing

Email Marketing

SEO

Paid Ads

HTML, CSS etc. 
The best part is, when you work on your own blog, you can see results and optimize it for better performance anytime. There is no limit to the testing you can do. 
And if you are serious about your blog, you can also turn it into a revenue stream in the future. 
8

. Prepare a great resume & start applying for jobs
You can have all the knowledge and experience, but without an attractive resume, you could get filtered out from all job portals. 
Anyone can build an attractive resume by putting in a little bit of effort. 
Here's a list of things that will help you prepare a great resume. 
Pick an attractive template
There's nothing wrong in copying ideas, after all, no one is that original. 
There are thousands of good resume templates available online. Just pick one, and start editing it with your own content.
In case if you couldn't find a template that is decent enough, here is a YouTube video on creating an attractive resume from scratch. 
Make the resume objective clear and catchy
The first thing that recruiters look at when they see a resume is the objective. 
As there are multiple verticals within Digital Marketing, you'll essentially have to specify what you are looking for in the resume objective. 
Also, you can highlight some of your relevant qualifications and experience to make it stand out. 
See the below example. 
E.g. Google certified search engine marketing professional with 4 years of experience. Looking for a challenging position in the field of search engine marketing, PPC and Analytics. 
What needs to be highlighted
As a Digital Marketer, you need to highlight your expertise, skills and even the tools you are familiar with on your resume. 
For example, if you are a person who's into content marketing and SEO, you can list out your skills like content writing, social media marketing, HTML, WordPress etc. 
And if you have received certifications from Google and HubSpot, make sure they are on your resume.
Also, if you have written blog posts or worked on some websites in the past, you can provide all of those relevant links on your resume to prove your expertise. 
Make use of job portals
You can't certainly ignore job portals. Build a great resume and upload it into all the popular job portals. 
Also, make sure you are filling in all the necessary fields to create a complete profile in these job portals. This will make your profile more visible to the recruiters. 
Now you can start applying for Digital Marketing jobs on these portals. You can also check out the careers section on many company websites and apply directly for Digital Marketing job vacancies. 
9.

Build your network
Networking helps you any day. 
We don't know who's going to help when. Having a bigger network will always make things a lot easier. 
Especially when you are on a job hunt, your connections can turn really helpful. This could be your alumni network, LinkedIn connections, a Facebook or WhatsApp group or even your closest friends' circle. 
And don't hesitate to reach out to people or put out a status update (on LinkedIn) to let people know what you are looking for. 
Platforms like LinkedIn work great for Digital Marketing jobs. You can directly apply for jobs on LinkedIn or even reach out to recruiters directly in a polite manner. 
Conclusion
So, if you love Digital Marketing and want to make a career out of it, just follow these steps. I'm sure you will see results as early as 3 months. 
Importantly, you will need to put-in genuine effort consistently to see results. Also, don't stop learning even when you land on a job. Just keep improving yourself as a better Digital Marketer. 
Hope this helps. 
PS. If you found this article helpful, please show some love by sharing it on social media or with your friends.