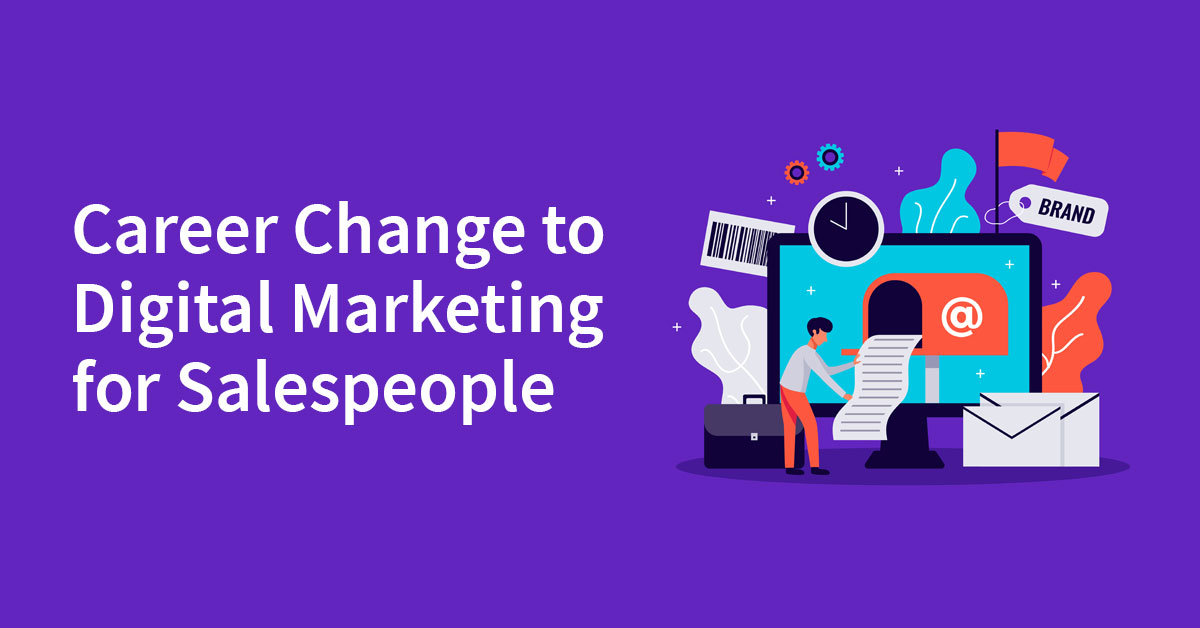 Back in 2014, I started my career in Sales.
I won't say Sales is a bad thing. But is it right for you?
That's what makes the whole difference.
Just like many of you, I did an MBA from a reputed college in South India. Right after finishing the course, I was campus placed into a company in one of the Sales roles.
I worked there for a year and I wasn't content with what I was doing. I felt like, negotiation or hardcore selling really not my thing.
The next turn I took was a wrong one. But we learn from mistakes, don't we?
I chose a channel sales role to avoid selling directly. But my bad, it was worse for me. I was totally not getting on track with that role.
However, I must say that the financial benefits were pretty good there. But eventually I was worn out, and my only option was to quit.
And what did I do after that?
You are going to read that below, mostly about how I switched successfully from Sales to a Digital Marketing role and how you can too.
Today, I am a full-time Digital Marketer. I do blog about Digital Marketing and I was also fortunate enough to work on some freelance projects before getting into my current full-time role. Moreover, I'm happy and super-focused on what I'm doing.
And I can't wait to tell you about the inner-workings. 
Reader's tip: Well, this blog post is all about making a career change to Digital Marketing. However, certain parts like the one about academic qualifications are aligned more to the Indian scenario. That's the only thing; all other sections are universal.
Why leave Sales?
If you are still confused about making a move from your current Sales role, here is the thing.
Do you love meeting people?
Do you love talking over the phone, mostly a lot of cold calling?
Do you love convincing people and negotiating with them?
Are you good at winning targets, no matter how tough the situation is?
Are you good at managing people, even when they are all super pissed?
And moreover, are you okay with working under pressure?
If you say NO for at least 4 of these questions, trust me, you aren't going to survive in Sales. But don't worry, it's not the end of the world and I'm no way discouraging you.
We are here to open another door, something that really works out for you.
And let me make one more thing clear.
If you are in a Sales role for the quick money and you absolutely don't love the job, it is not going to last. You will eventually be tired enough to quit the job.
If you are with me so far and feel optimistic about this, that's awesome.
This blog post will probably help you take the next big turn in your career.
Is Digital Marketing right for you?
Sales, is not for everyone, just like how Digital Marketing is not a 'one size fits all' trade.
There are certain skills that you must possess to succeed in a Digital Marketing career. They mostly matter more than your academic qualifications.
Do you have some essential Content Skills?
If you are good at writing content, there is a good chance that you will love Digital Marketing. If you can write content that can drive attention and convert sales online, perfect, you are in.
It doesn't mean you should write like Shakespeare or Oscar Wilde.
But you should be able to convey concepts through your writing, with proper grammar and punctuations.
Tomorrow if you write an article about 'How to make money online?' people should be able to read and understand your content, and if they really learn something out of it, that's where you win.
And let me tell you this secret. Just like any other trade on the planet, you will get better as you write. So even if you are a total beginner, that's okay, let your words flow and flourish.
Can I get you a 'Tech Savvy' tag?
You don't need to be a pro in PHP or Java to do this.
Have you ever downloaded a movie from a torrent website?
That level of tech friendliness is good enough to start learning Digital Marketing.
But, if you still struggle to install an app on your phone, maybe you shouldn't be thinking about making a switch to Digital Marketing.
Hope my point is clear.
In reality, some knowledge of HTML, CSS and probably JavaScript will help you in your Digital Marketing career.
Do you dig out your Creativity often?
If you have zero creativity in you, it's going to be tough.
Are you a person who likes to deal with oil refineries and mechanics of the marine vessels? Okay, maybe that's too much.
But basically, if you like such stuff, and you are not really artistic or creative, you may find Digital Marketing boring in the long run.
So how and where do you use your creativity in Digital Marketing?
If you are a Digital Marketer, you will be sometimes writing content for various online campaigns and even you will have to decide on a landing page design. These are just examples; you will be literally dealing with all the creative material and content that gets published on your digital assets (website, social media pages, email etc.)
To attract and retain the users, some amount of creativity is a must.
Do you analyze situations?
Yes, it's good to have some analytical skills.
People who are good at numbers and analytics are generally chosen to handle roles that involve PPC (Pay Per Click) campaigns and web analytics. These roles would mostly involve processing of a huge amount of data and making informed decisions about how to do one of those much-needed tweaks on a paid campaign.
But don't worry if you are not an analytical person, there are many other roles in the Digital Marketing domain that you can take up.
Roles involving Content Marketing and Social Media generally require people who are more aligned towards the creativity side.
I would say these 4 skills that we just saw above, could be the decisive factors in your Digital Marketing career.
Just give it a thought, find out how good you are in these skills, and remember, there is always room for improvement.
How about my qualifications?
I have met quite a good number of Digital Marketers after switching to my Digital Marketing career.
So, this is the situation in India.
Most of them are B.Tech graduates.
Some of them are MBAs.
Then there are a good number of MCAs.
I have also met people who have done their bachelors and masters in arts, commerce and science subjects. So that covers pretty much everything.
But when the competition tightens, this is going to happen, or it is already happening.
Many good companies prefer BTech graduates (and MCAs as well) for a Digital Marketing role.
And some really good companies consider MBAs for this role, and they are mostly paid well.
But the other graduates don't just lose hope.
There are ways you can stand out. And we are coming to it.
Plus here is a thing. I know people who have done masters in arts subjects and currently handling Digital Marketing roles in some of the reputed companies.
Most of them started their career with exceptional content skills and that took them eventually to Digital Marketing.
So, there are positive things happening almost everywhere. You only have to prove that you are good enough.
Here's what you can do to boost your career switch into Digital Marketing
Apart from your qualifications and skills, there are certain things that will help you stand out in the job market.
Trust me, if you really want to stand out, you have to go that extra mile, and that's definitely going to pay off.
Here's a bunch of clever but simple tactics that you can follow to gain more knowledge and expertise in Digital Marketing, which in turn will help you switch quickly into one of those dream jobs of yours.
Explore never-ending resources on the Internet
A blog post a day will keep you updated.
There are tonnes of blogs, videos, ebooks, checklists, podcasts, and infographics available on the internet if you want to learn Digital Marketing.
And the best part is, a huge chunk of these resources come for free.
There are advanced paid courses available, but the free ones are seriously good enough.
If you put enough effort to read one blog post every day, that will boost your knowledge beyond your expectations.
You only have to search on Google and find out some of the best resources. Type any topic, you have it there.
Another good practice is to watch a boatload of video tutorials from YouTube.
Divert some of that energy from Netflix to YouTube.  You'll see the difference.
There are professional vloggers and content creators who are experts in Digital Marketing offering walkthrough video lessons on YouTube.
You just have to follow their channels.
Watching a minimum of two video tutorials a day is decent enough.
Apart from this, follow popular bloggers on social media and subscribe to their newsletters. So that whenever they publish a new blog post, it is delivered right to your inbox.
But what do you do when you don't have time for all this?
There comes podcasts for your rescue. Learn while you commute, eat or even at the gym.
Install an app like CastBox or any other podcast player. Subscribe to your favorite content. Get all your favorite lessons through your ears.
If you are a total beginner, I suggest you to sign up for my free 7-day digital marketing course. It can give you an overall idea about how to go forward. 
Reader's tip: Take some time to check out Google Skillshop (Previously Academy for ads). They have courses on AdWords, Analytics and many more. Take up one of those courses and you can earn a certificate from Google for free.
Hubspot also offers courses on Inbound Marketing, Content and Email Marketing. These courses will get you a good understanding of various aspects of online marketing.
Moreover, all these courses are free and offer certifications that will definitely help you stand out in a job interview.
Here is the picture of Inbound Certification that I have received from HubSpot Academy. 

Join a training program and get certified
Joining a reputed institute for a Digital Marketing training program is not a bad idea. Again, if you are a total beginner, taking up a course will help you get a better understanding of the whole Digital Marketing domain.
I can even list down some of the benefits of joining a training program here;
You get to go through a structured training program with a proper syllabus.

Hands-on experience on areas like SEO, PPC etc.

You get certified, which will be an added advantage when you attend job interviews.

Some of the institutes offer an internship after the training program. This could turn really beneficial if you get to work on some of the live projects.
Most of these courses are of 1-2 months duration without an internship.
Apart from this, there are plenty of online courses available, in case if you don't want to get out of bed every day and run to an institute.
Online courses also offer certifications after the training program. Interestingly, in India, there are many young graduates who opt for such online courses today. And I personally know people who have got job offers from companies in Digital Marketing roles because of an online course they have done (and they were good candidates too, the course was just a plus).
I don't really want to endorse any particular institutes or online courses in this article. You can search online for some of the best training centers in your city. Make sure you are doing some background check before you join somewhere.
How about starting a blog?
First thing, it's a no brainer.
You just need to be focused, passionate and hardworking to do this.
And when I say blog, it's one with a custom domain and probably self-hosted. Not anything created on blogspot.com.
Now why start a blog to find a career in Digital Marketing?
Here's the thing.
By starting a blog on your own, you get to learn these basics of Digital Marketing. I mean you can learn by getting your hands dirty. And no theory lesson can ever beat your hard earned experience.
Here's a list of things that you're going to learn by starting a blog.
Website Management
 When you start a real blog, you'll learn how to manage a website. Everything from getting a domain name to choosing hosting plans would only make you wiser.
You will also learn about Content Management Systems (CMS) like WordPress and how to create attractive web pages to drive conversions.
WordPress
I started serious blogging in the year 2017.
I have no idea how much I liked WordPress as a beginner. Honestly, if there was no WordPress, I wouldn't have started blogging at all.
The best thing about WordPress is its versatility. Get a 'theme' (free or paid) for your blog and customize it the way you want, and for every other functionality, there is a plugin.
By starting a blog on WordPress, you will learn to design web pages, publish blog posts, insert images, add CTAs and even to set up a lead magnet.
In many companies, Digital Marketers are responsible for publishing blog posts and deciding on the layout of the landing pages.
Your knowledge of WordPress would be a blessing when you come across such situations.
Some real SEO for your own website
Learning theory is good, but when it comes to SEO, nothing helps as much as the practical knowledge.
 As a beginner, there are two ways to learn SEO.
Take up an internship

Start an own website.
And even if you take up an internship, you may not be given any advanced tasks. Mostly, you will be getting beginner level tasks like keyword research and some on page SEO activities.
As most of these internships are for 2-3 months, you may not really get a chance to know the outcomes of your SEO efforts.
But don't worry.
Here's what you can do.
Build a website (preferably a blog), do all the SEO activities there, see the results for yourself.
I would suggest you to first go through various tutorials and walk-through guides on the web to learn SEO and then you can try them all on your website.
Trust me; there is no better way to learn SEO than this.
Writing content for the web
 No matter what your blog's niche is, good content always pays off.
Learn to write content that drives attention and retains readers.
You can refer to some of the best blogs like Smartblogger.com and Copyblogger.com to learn the secrets of this trade.
The next thing that I'm going to say is not mandatory, but you can follow this if you want.
I know a lot of people (including me) who blog about Digital Marketing. To be honest, the advantage that we have is, we learn as we write blog posts.
It doesn't mean you have to pick Digital Marketing as your niche for blogging. You can write blogs on any damn topic under the sun, and you can do SEO on your site.
Promoting your blog on Social Media
Want to learn Social Media Marketing?
You don't have to worry about it when you have a blog of your own.
You can promote your own content on various social media channels through organic and even paid methods.
Facebook, LinkedIn, Twitter, YouTube, Instagram, Pinterest, and Google+ are great platforms to promote your blog content and build a trusted audience.
Email Marketing
Here's another benefit of starting a blog.
Email marketing is one effective method to promote your content and drive traffic to your blog.
I would suggest getting a free account on an email marketing tool like MailChimp.
MailChimp's free plan is pretty awesome and fits well for absolute beginners.
Watch some of those easy video tutorials on YouTube and start learning by creating lists and campaigns on MailChimp.
On an intermediate level, you can create an email subscription form for your blog, create automations and try segmenting a mailing list.
These might sound a little overwhelming for the beginners, but there are enough walk-through video tutorials available online.
You just have to put some work and learn it all by yourself.
Analytics
There's a lot to learn in Web Analytics.
But you can learn the basics by setting up a Google Analytics account for your website.
You can start by tracking the number of visitors, bounce rate, page views, traffic sources etc.
Once you are through with the basics, you can start learning the advanced tracking options.
And don't worry about setting up Google Analytics for your website when you have free video tutorials available.
Or if you have any doubts or need some support you can mail me as well.
There is another very important thing that I have to mention here. If you build a blog after putting so much time and effort, make sure you are adding it to your CV. That will certainly make you stand out.
So these are some of the best ways to boost your career switch into Digital Marketing. And which one are you going to try first? 
Conclusion
I hope you have got some clarity on how to successfully switch from Sales to Digital Marketing now.
And remember, you can do all this in just 3 months if you put some genuine effort.
I wrote this article for people who really want to move out of Sales and start a career in Digital Marketing. Mostly for people who are misfits in Sales jobs.
Again it's not their mistake, if you like Digital Marketing you should certainly consider moving into it.
But here is the most important thing.
You definitely have to be passionate about this. Not only in the case of Digital Marketing, but anything that you choose to do in your life.
I'm sincerely hoping this blog post will help you achieve your career goals.
All the best
General FAQs
Q) Can I switch from Sales to Digital Marketing?
a) Yes, absolutely. You can follow the methods mentioned in this article to make a switch to Digital Marketing.
Q) How long does it take to switch from Sales to Digital Marketing?
a) You can do it even in 3 months. However, actual results will depend on your experience, knowledge and ability to convince recruiters.
Q) Does it help if I join a digital marketing course?
a) Yes, it does. You can either go for an online course or join a local institution to learn digital marketing.
Q) Are digital marketing internships helpful?
a) Internships will help you gain a lot of hands-on experience. Some institutions also allow you to work on some of their real-time projects. This can be really helpful in building your digital marketing career.