In this blog post, I'm gonna show you how to start a blog to make money in 2020. 
But you might be thinking, is this even real?
Can you really make money from blogging?
Well, the truth is, YES.
There are enough Bloggers, Content Creators and Affiliate Marketers doing this already. But let me be honest with you. This is NOT a get rich quick scheme. 
It often takes time, effort, and a lot of learning to make money from blogging. 
But the good thing is, it is a solid channel where you can create streams of passive income. That means, you will keep earning even while you are sound asleep. 
I think that's enough of stories, let me show you how to do this, step by step. 
Have the right mindset to start a blog
This is crucial before you jump on to the boat to start a blog. 
To make money from blogging, you need to first treat it as a business. And like any business, blogging also takes time and effort. 
So here are the top reasons to consider taking up blogging. 
Blogging can help you make money. I mean a lot of money than a mere 9 to 5 job. (I'll show you proof through some success stories, keep reading)

It will give you personal and financial freedom. You will be your own boss.

You can monetize your blog in multiple ways (I'll show you that too)

You can earn passive income.
And here's what you need to expect in the early days of blogging.
You will need some investment if you want to become a serious blogger and make money.

You need to be consistent about putting your time and effort into your blog.

You need to have the mindset to learn more things everyday. 
You need to have these things in mind all the time if you want to become a successful blogger. 
Understand various blogging platforms
There are paid as well as free blogging platforms.
Some of the popular free blogging platforms are blogger.com and WordPress.com.
But for certain reasons, I won't recommend these free blogging platforms to serious bloggers, especially if you plan to make money out of your blog.
Below are some the reasons to avoid free blogging platforms.
With a free blog on blogger.com/wordpress.com, you have limitations in customizing your blog. You cannot change your theme or layout the way you want it to be.

Your blogs will have ads on it, which may look unprofessional to your readers. 

You will have no control on where your blog content is stored and how it is handled. Because it is on the blogging platform's server. 

You will not have a custom domain name. Your blog's URL will always contain blogspot.com or wordpress.com (e.g. https://example.wordpress.com)

With such a domain name, you will also have issues with building a strong search presence on Google.

You cannot run affiliate programs with these free accounts.
Now that you know, why free blogging platforms are a bad idea. 
So what's really the right blogging platform?
There is only one answer to this. It is WordPress.org. 
Please note, WordPress.com and WordPress.org are two different platforms. WordPress.org is a self hosted CMS (Content Management System), which means you will have to buy a hosting plan to host your blog. WordPress.org is the recommended choice for any aspiring blogger.
Decide your blog's niche
Do you know what a 'niche' is?
It is simply the topic or area that you want to write about. If you are good at Digital Marketing, you can choose it as your niche and start a blog on it.
Ideally, you should be writing about something that you are good at.
If you are good at gardening, start writing about it. Or if you are super interested in home décor and collectibles, start a blog on it.
This is important because you won't be able to give out genuine and valuable information to your readers if you don't have in-depth knowledge about what you are writing.
Roughly, you should have good knowledge about your niche and you should be passionate about it as well. 
Plus, a very important aspect is to make sure your niche is profitable. That means you should be able to generate revenue from a blog in that particular niche.
Here's a list of profitable niches in the blogging world.
Health & fitness

Fashion & lifestyle

Money making

Personal finance

Online Marketing

Food

Lifestyle

Personal development
The two examples that we discussed above, gardening and home décor would fall under Lifestyle, if you ever had a doubt it.
These niche blogs make money through ads, affiliate marketing, and even product sales. We will see all that in the coming sections.
Get a domain name for your blog
Yes, your domain name is really important.
Before we go any further, if you don't have an idea about what a domain or domain name is, here is the thing.
Domain name is simply what you type into the address bar to access a website or blog. 
See the below image to get a better idea.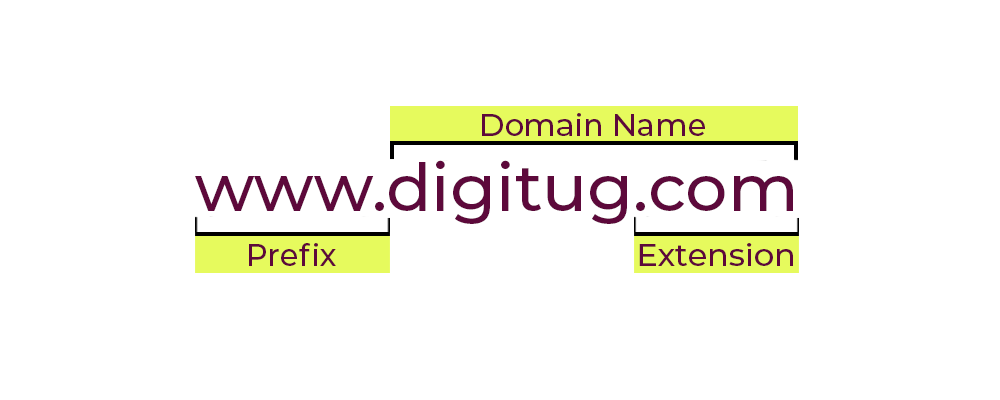 The 'Extension' shown in the image is also known as a Top Level Domain (TLD) and the 'prefix' part can also be called as a sub-domain.
You can purchase your domain from a provider like Namecheap. 
Always go for a domain with .com extension. Or if you are focusing only on a specific country or region, go for a country-specific domain like .in (for India) or .ca (for Canada).
Previously, people used to buy domains containing their target keywords to get ranked on Google without much effort.
For example, in the earlier days, someone selling flower pots could buy a domain like cheapflowerpots.com and get it ranked on Google easily. The idea behind this is to turn all the people searching for the keyword 'cheap flower pots' into website visitors.
Today, Google's algorithms are so advanced and it doesn't work that way anymore.
Always go for a domain name that is brandable.
The example that we just saw above, 'cheapflowerpots.com' cannot be a brand. Whereas domain names like lilysnursery.com or tomsgarden.com are always brandable.
I am listing down the steps for buying a domain here.
We are choosing Namecheap here to show the steps in buying process. (Namecheap offers the best price on domain names while buying and renewing)
1. Go to Namecheap.com
2. Search for the desired domain name on their home page

3. Find available domain names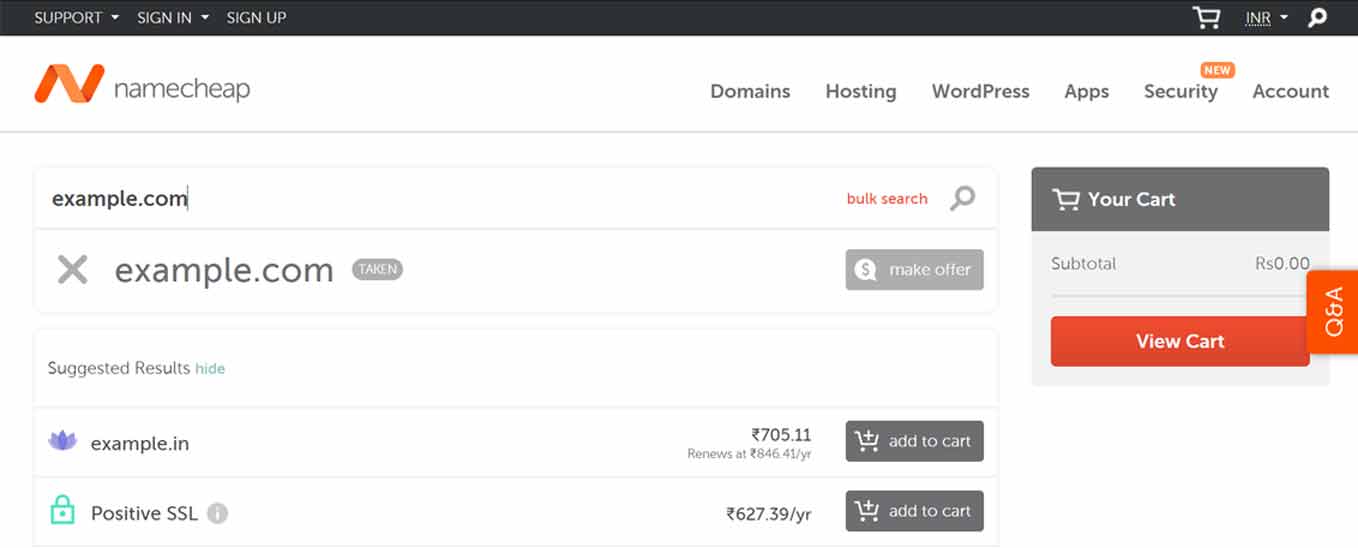 4. Pick the one that you liked from the list of available domains and add it to the cart

5. Create an account in Namecheap (if you don't have one) and make the payment.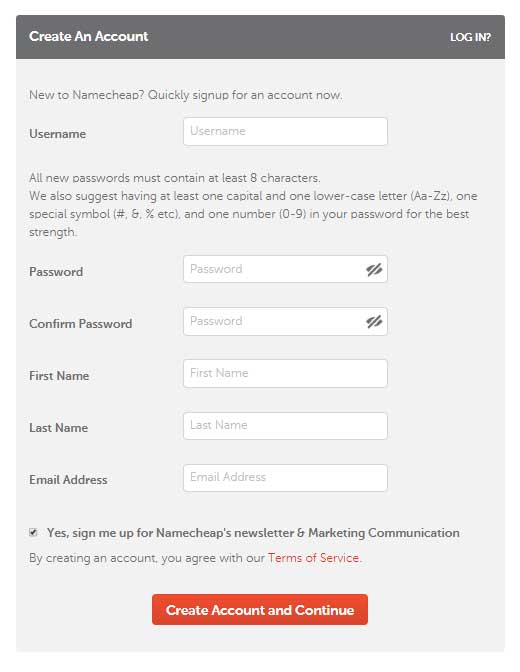 That's all, you're done with getting a domain.
You can see the purchased domain in your Namecheap dashboard. 
Now let's move on to the next step.
Get a hosting plan for your blog
Now that you have a domain. A domain is only an address to reach your blog. To create a blog, you need to find a space to host it.
This is normally called 'web hosting'.
If you are a total newbie, you might find this confusing. But don't worry, I'm going to break it down here.
Just like how space is required to store your favorite movies and songs in your PC, space is required to store your blog as well. But unlike movies or songs, your blog will be stored on remote servers.
To get a server space to store your blog, you will need to buy a hosting plan.
So that when people type your domain into their address bar, your blog will be shown to them.
There are different plans available like shared hosting and dedicated hosting. For beginners, a shared hosting plan will be just right.
And even within shared hosting plans, you can either go for Linux hosting or managed WordPress hosting.
The blog that we are going to create here will be running on WordPress CMS (Content Management System). So, getting a managed WordPress hosting plan is highly recommended, and I will also show you how to get one in this blog post.
Before that, a bit about managed WordPress hosting.
These are hosting plans designed for WordPress websites. With a managed WordPress hosting account, you will get one-click WordPress install, timely WordPress updates, automated daily backups, inbuilt caching and dedicated support.
Though there are many providers who offer these plans, I would highly recommend going with Siteground.
They are one of the best-managed WordPress hosting providers, in terms of performance and pricing.
I have partnered with Siteground to offer you a massive discount of 70% on their WordPress hosting plans.
You can claim your discount here.
Below given steps will guide you through the process of buying and setting up a hosting plan with Siteground.
1. Go to Siteground.com and click sign up.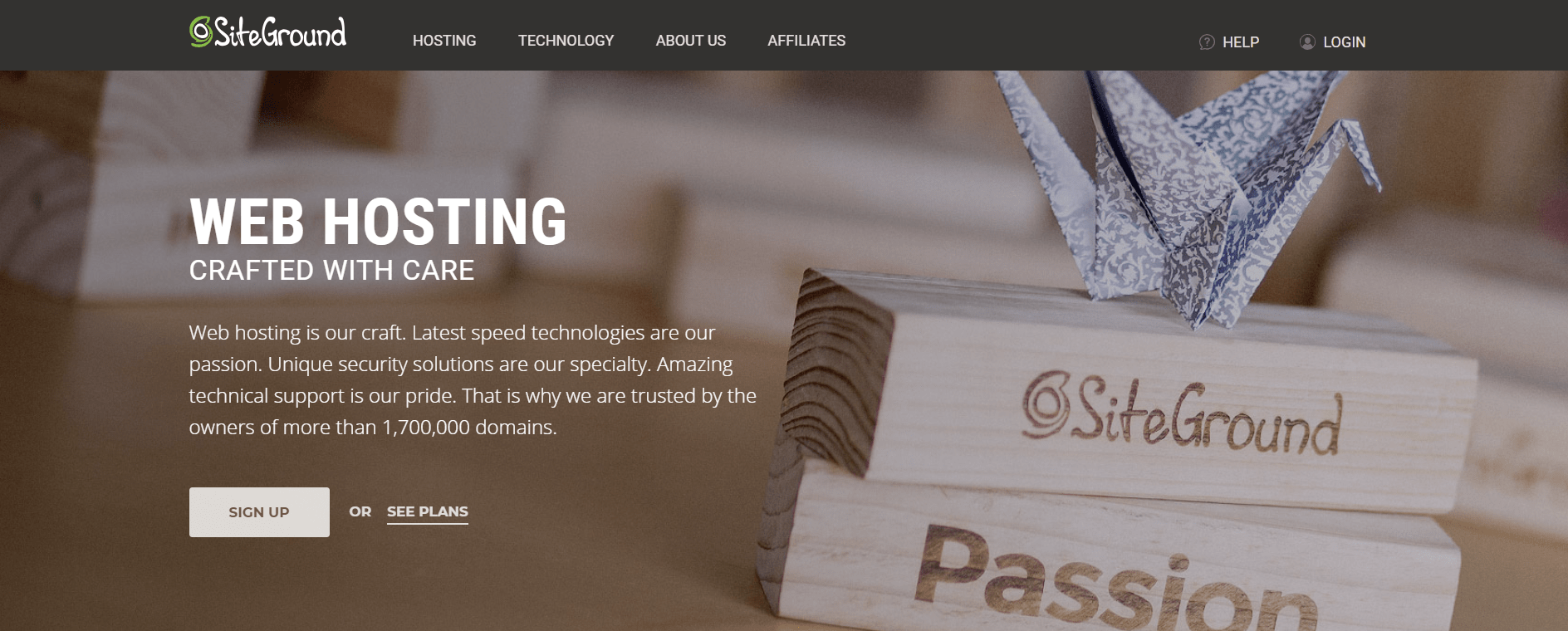 2. Choose a plan that is suitable for you. For beginners, I would recommend going with StartUp or GrowBig plan. If your budget is flexible, you can go with GrowBig plan that offers features like inbuilt caching, free backup restores and free website or blog transfer.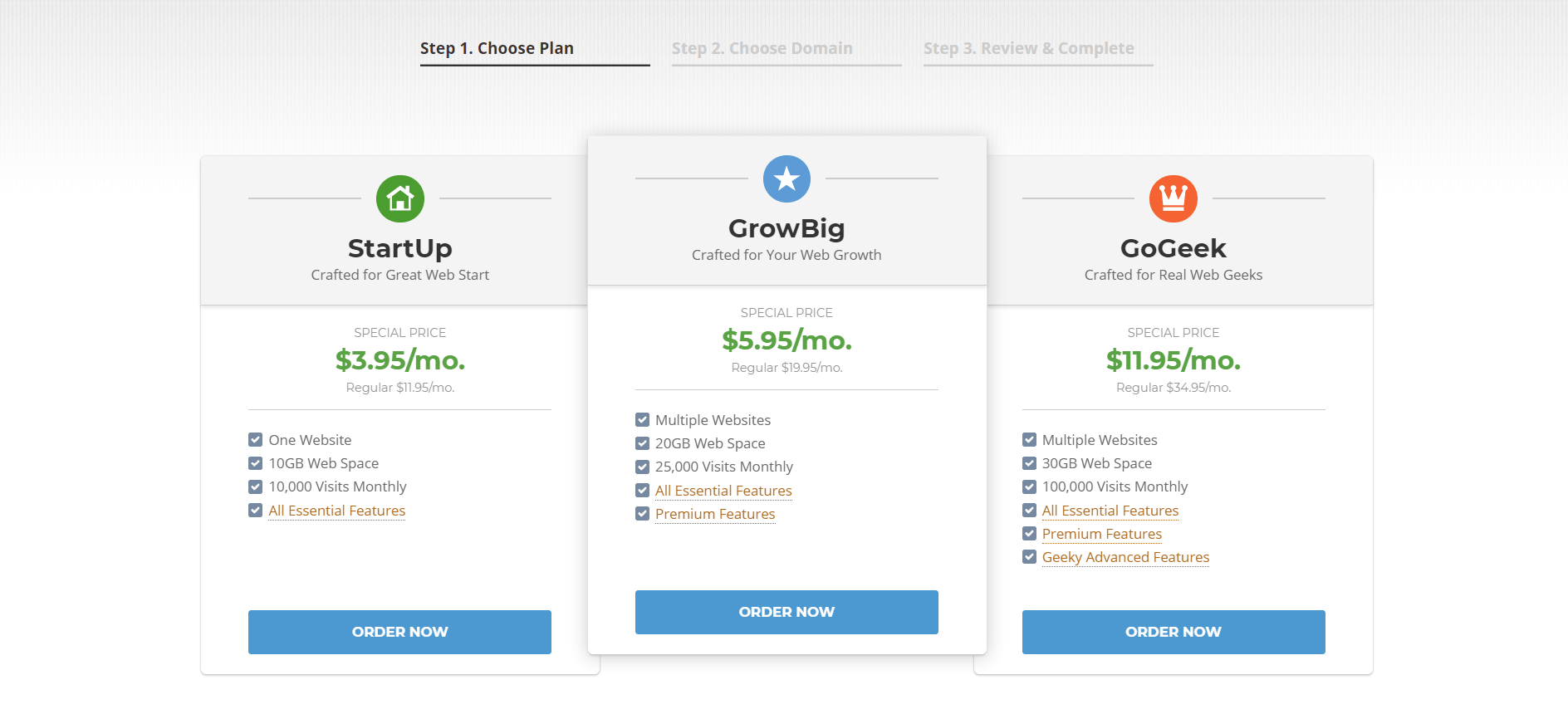 3. Add the domain that you have already bought.

4. Give billing information and make payment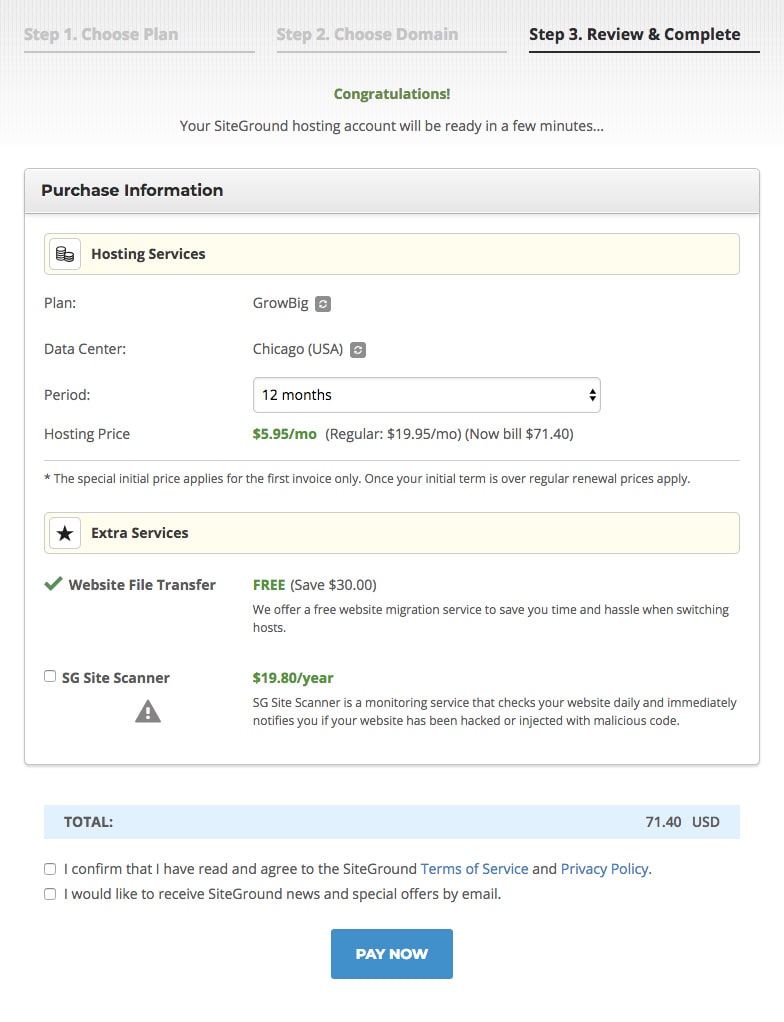 Once you have made the payment, your hosting plan is ready to use.
But there is one more important step to be done.
Now that you have your domain name with Namecheap and hosting plan with Siteground. To connect these two and make it functional, you need to point your Namecheap domain to Siteground hosting server. You can follow the below steps to do it.
1. Go to Namecheap.com and log-in to your account.
2. Go to your 'dashboard' where you can see your domain names. (see below image)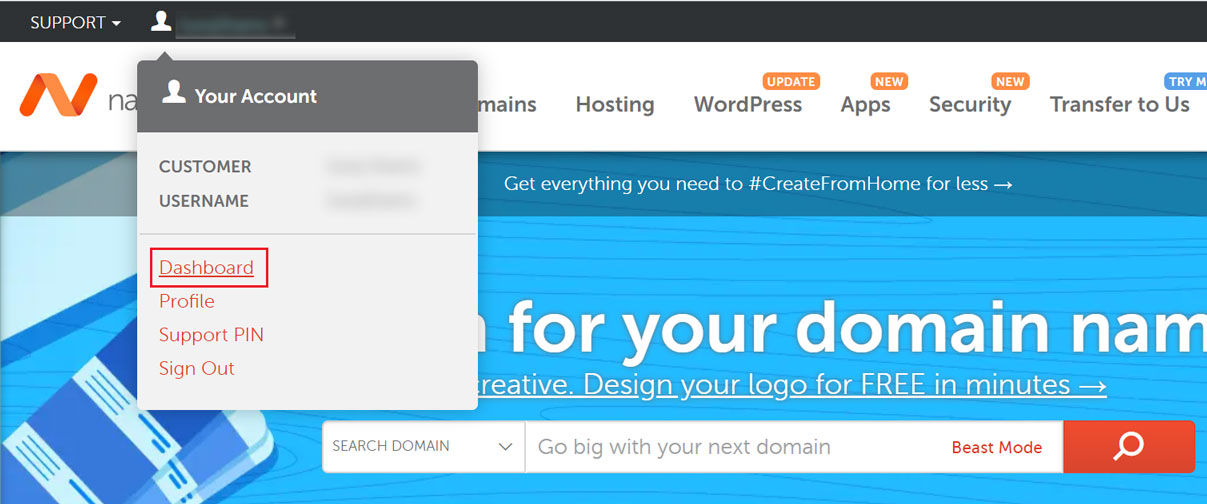 3. Choose the domain name that you want to connect with your Siteground hosting and click on manage. (see below image)

4. This will take you to a window where you can choose your DNS option and enter your nameservers provided by Siteground. As shown in the below image, you will need to choose 'Custom DNS' from the drop down and the enter the nameservers below that.

5. To find your nameservers, you'll need to log-in to your Siteground hosting account and go to the cPanel or my account area. (see below image)
Please note, if your Siteground hosting account got updated to the new interface, you will need to look for your nameservers within the cPanel area. 

From either of these places, you can find your nameservers. Just copy it and paste it inside your Namecheap account and you are done.
Now the only thing left to do is installing WordPress. Once WordPress is installed, you can start creating your blog.
I am going to show you the exact steps for installing WordPress from your Siteground hosting account.
1. Sign-in to Siteground hosting account
2. Access cPanel from My Accounts section
3. Choose WordPress from auto-installers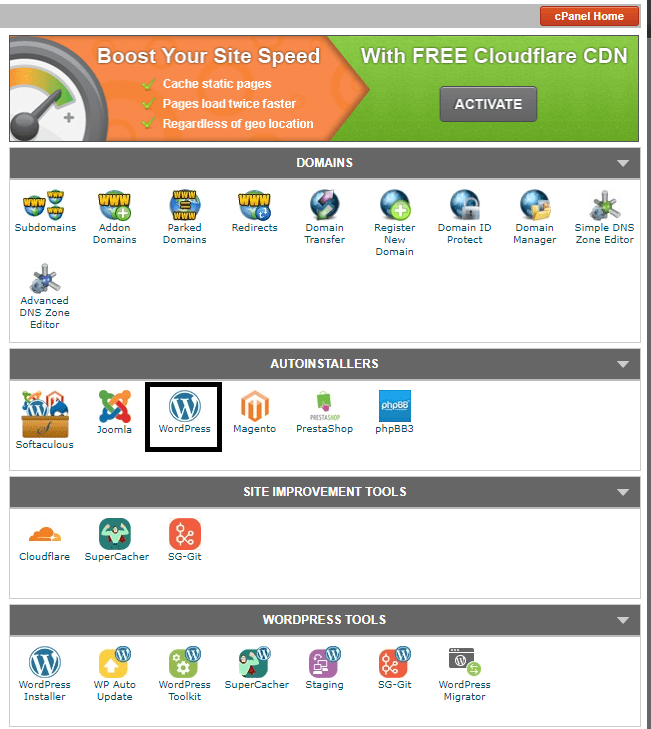 4. Click 'install now' and enter required details. Certain details in the admin account section will be prefilled, and can also be changed if you like to.
Importantly, choose https:// protocol for SSL certificate installation. 
And you can leave the 'in directory' field blank. (see below image)
Please note down the admin username and password that you enter here. You will need this later to log-in to your WordPress admin area. 
Once you are done with filling up the details, click the 'install' button at the bottom.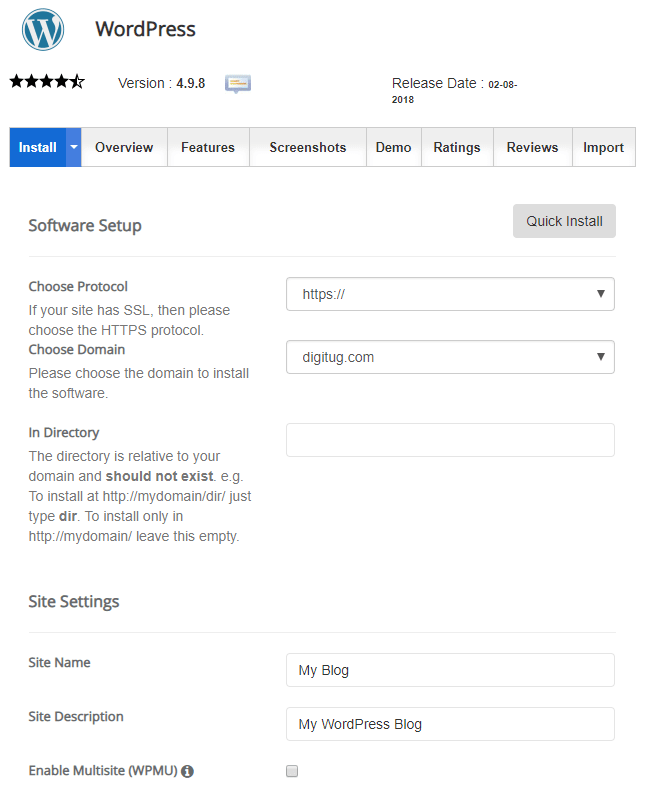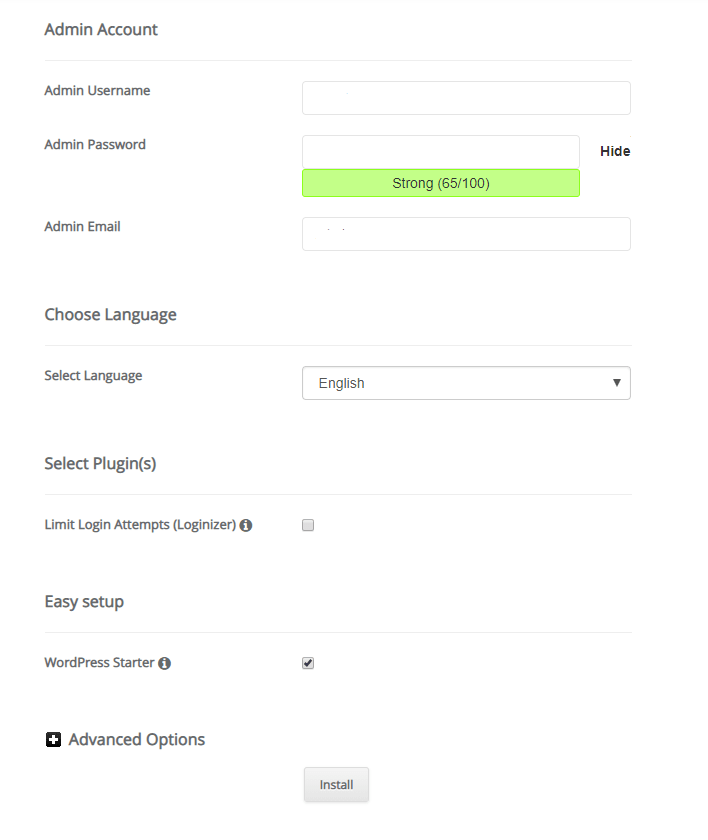 This will is install WordPress on to your root domain (www.example.com)
Install a WordPress theme on your blog
The next step is to log in to your WordPress dashboard and install a theme.
You can click the link to WordPress admin panel from your hosting account or just type your domain name followed by wp-admin (e.g. www.example.com/wp-admin) and enter your login credentials there.
After logging in, you can look for the 'themes' option in the WordPress dashboard.
This is where you find it;
Log in to WordPress admin panel > Appearance > Themes (see below image)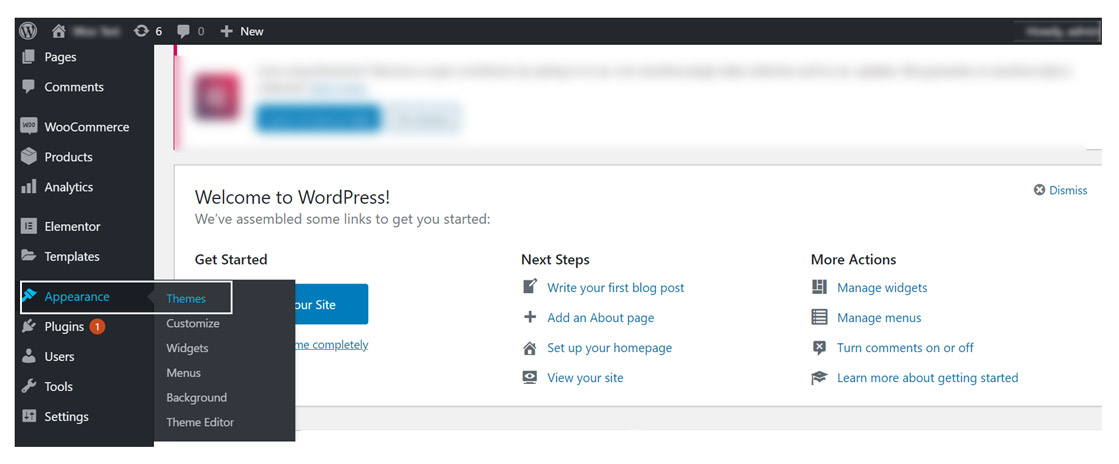 In a new WordPress installation, there will be some free themes installed already. And one of these free themes will be activated. 
Now, as a beginner, you can either decide to use a free theme or invest in a paid WordPress theme.
If you don't mind making a small one time investment, you can really go ahead and buy a paid WordPress theme. 
I would suggest buying a paid theme for the following reasons. 
Paid themes come with more customization options

They are well coded and updated regularly

Some of them come bundled with premium plugins
And if you decide to buy a paid theme, go for something like ContentBerg from Themeforest. This is a popular theme for bloggers and content marketers which is really easy to set up.
If you purchase a paid theme, you will get the 'installable theme files' in a zipped folder as download from the seller's site. See the below image from Themeforest.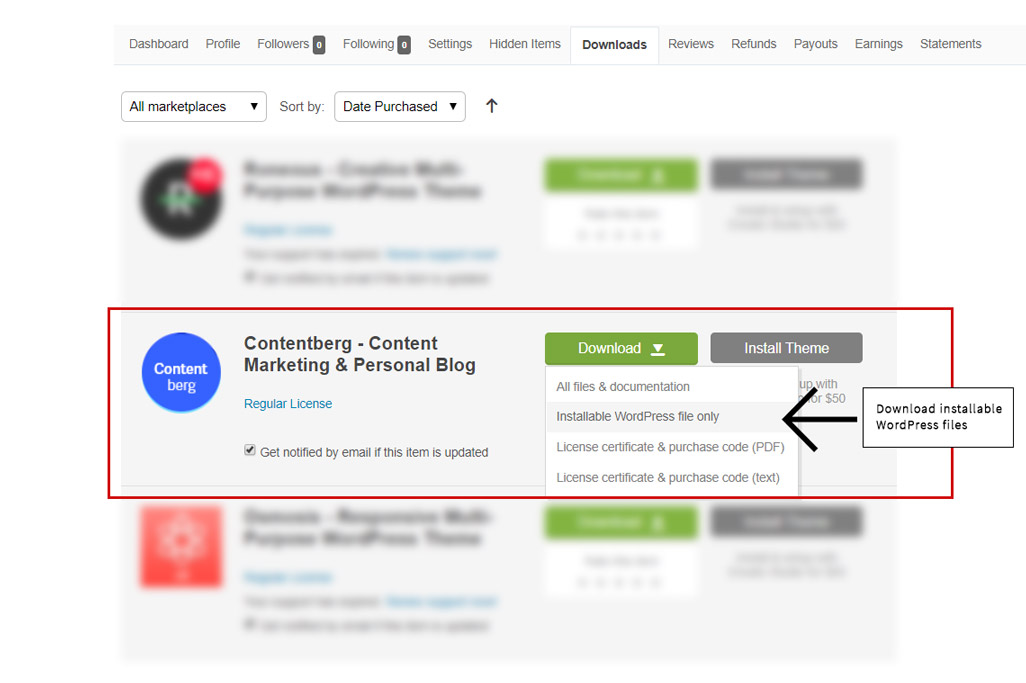 You can download this .zip file and upload it to your blog from your WordPress dashboard. You don't need to extract the .zip file, just upload as it is to your blog. 
Screenshots are given below for a better understanding. 
Appearance > Themes > Add New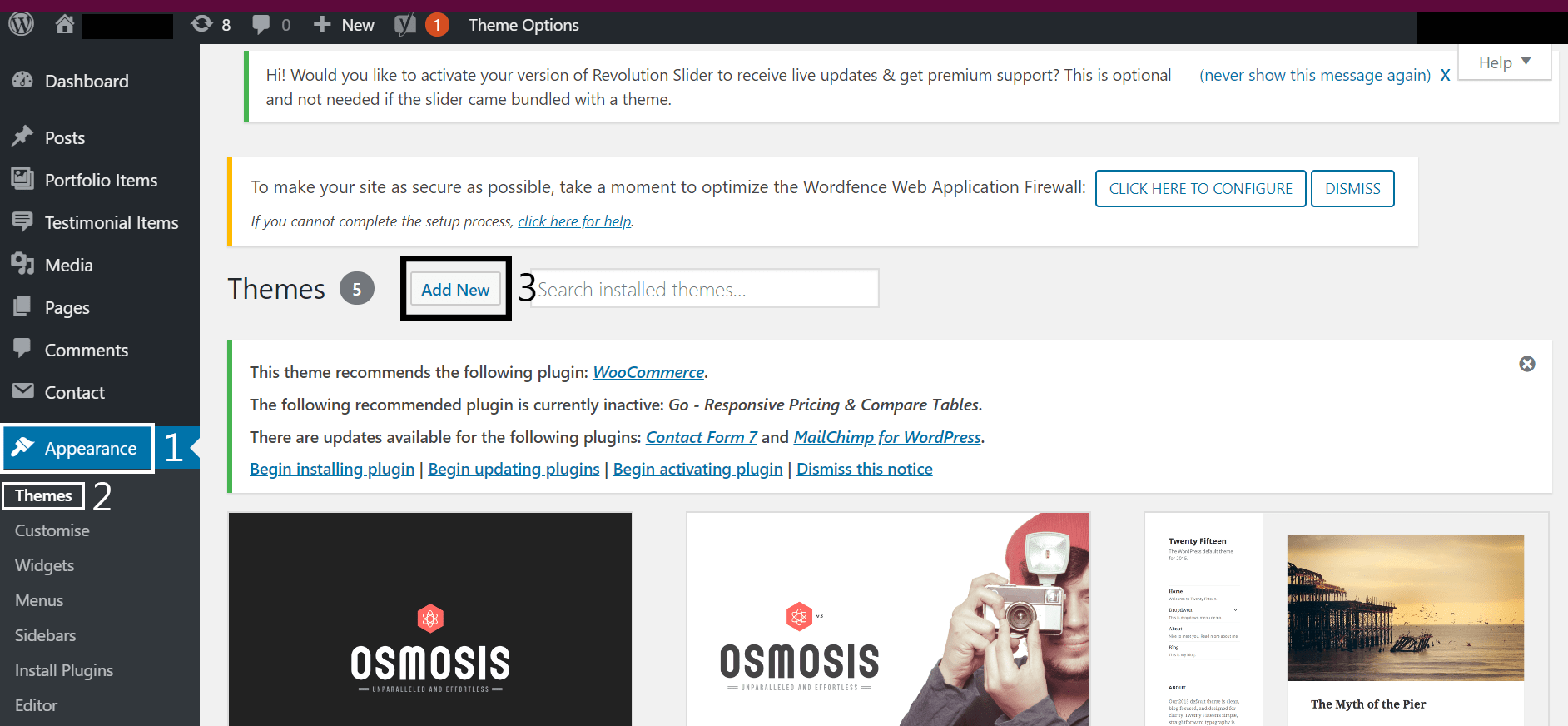 Themes > Add New > Upload Theme > Choose File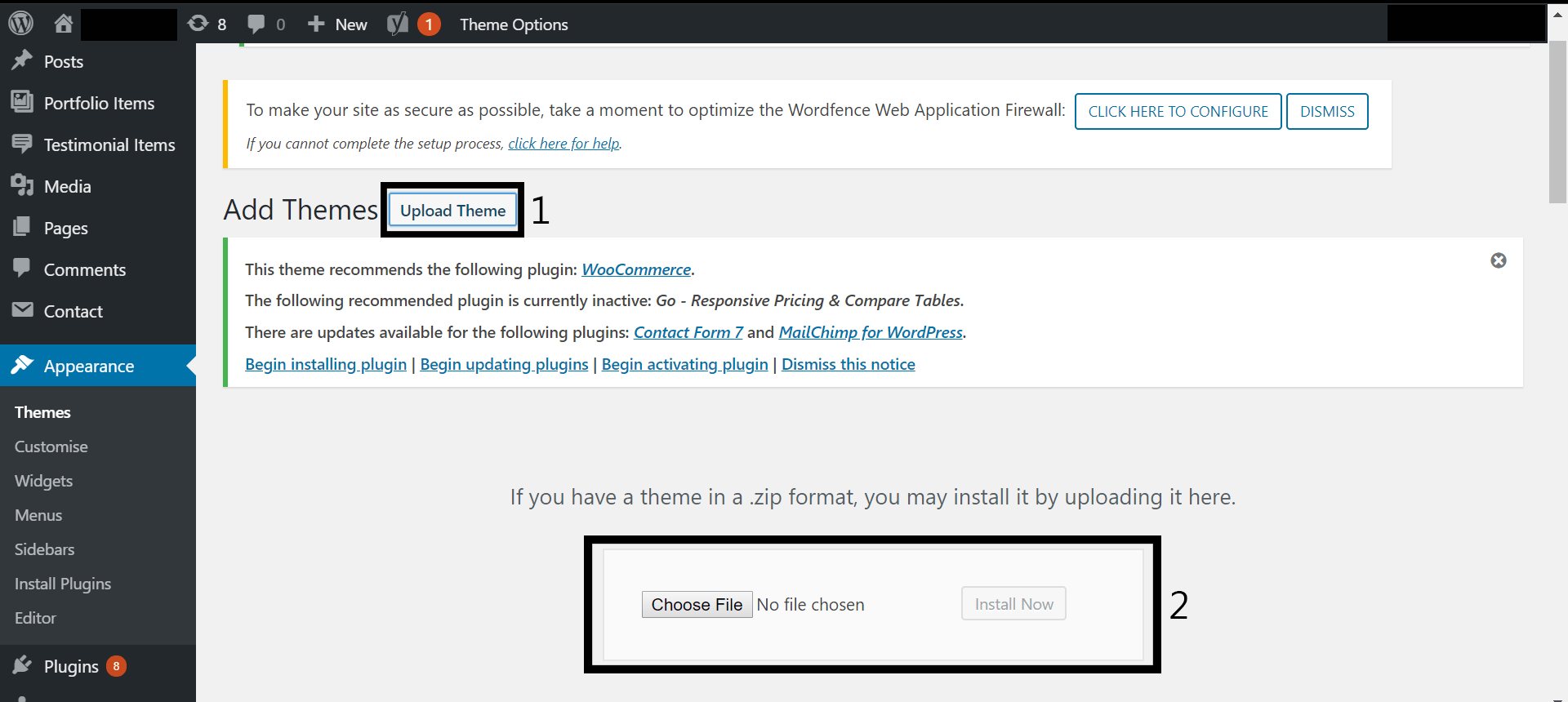 After uploading the theme in .zip format, you can go ahead and install it on to your blog. 
Then you can preview the theme once and activate it. 
Some paid themes come with a set of required plugins. These plugins often enable additional customization features on your theme. If your paid theme prompts to install a set of required plugins, just go ahead and install all of them by following their guidance. (see below image)
Premium themes also come with an option to import demos. These are pre-built pages and posts with dummy content and images. You can import these demos if you wish to, and then replace the dummy content with your own content. 
If you are using a paid theme like ContentBerg, you can go to the theme's welcome screen on your WordPress dashboard and click on the option to import demo. (see below image)
Or you can manually create pages and posts without importing a demo. 
Another important aspect is child themes. While setting up a WordPress blog, it is important for you to have a child theme. I will tell you why. 
Normally, all good WordPress themes receive regular updates. These updates can contain bug fixes or functionality improvements. 
When you install theme updates to your blog, it can really erase your theme customizations. This will happen if you have made your customizations to your main theme (parent theme). But if you have a child theme in place, you can readily install your updates to the parent theme and still have your customizations in place. 
Ideally, your blog should have a child theme and a parent theme. You need to keep both the themes installed and keep only your child theme activated. 
You will be making all the customizations to your child theme and your parent theme will remain as it is. When you receive theme updates, it will be installed to your parent theme. 
You can create a child theme from the main theme (parent theme) that you have purchased using a plugin like Child Theme Configurator. (see below image)

You can follow these exact steps to create a child theme using Child Theme Configurator plugin. Just see the images below and follow the exact same settings marked inside blue colored rectangles.



If you have followed the above steps, you should have a proper child theme by now. After creating the child theme, you need to preview it and make sure everything is working fine. 
Then you can go ahead and activate it. 
Now you can make all the customizations on your blog on this child theme. 
Build pages on your blog
Before building pages on your blog, visit a couple of good blogs and understand how they have organized the content.
The homepage of your blog can be done in two ways.
1. A dedicated page with basic details about your blog, services and maybe a little bit about yourself.
E.g. shoutmeloud.com (see below image)
2. A homepage showing all the latest blog posts. You can do this by choosing your posts page as the homepage. For most themes this option can be found when you access 'appearance' from WordPress dashboard and go to the 'customise' option. (appearance>>customise) 
E.g. smartblogger.com (see below image)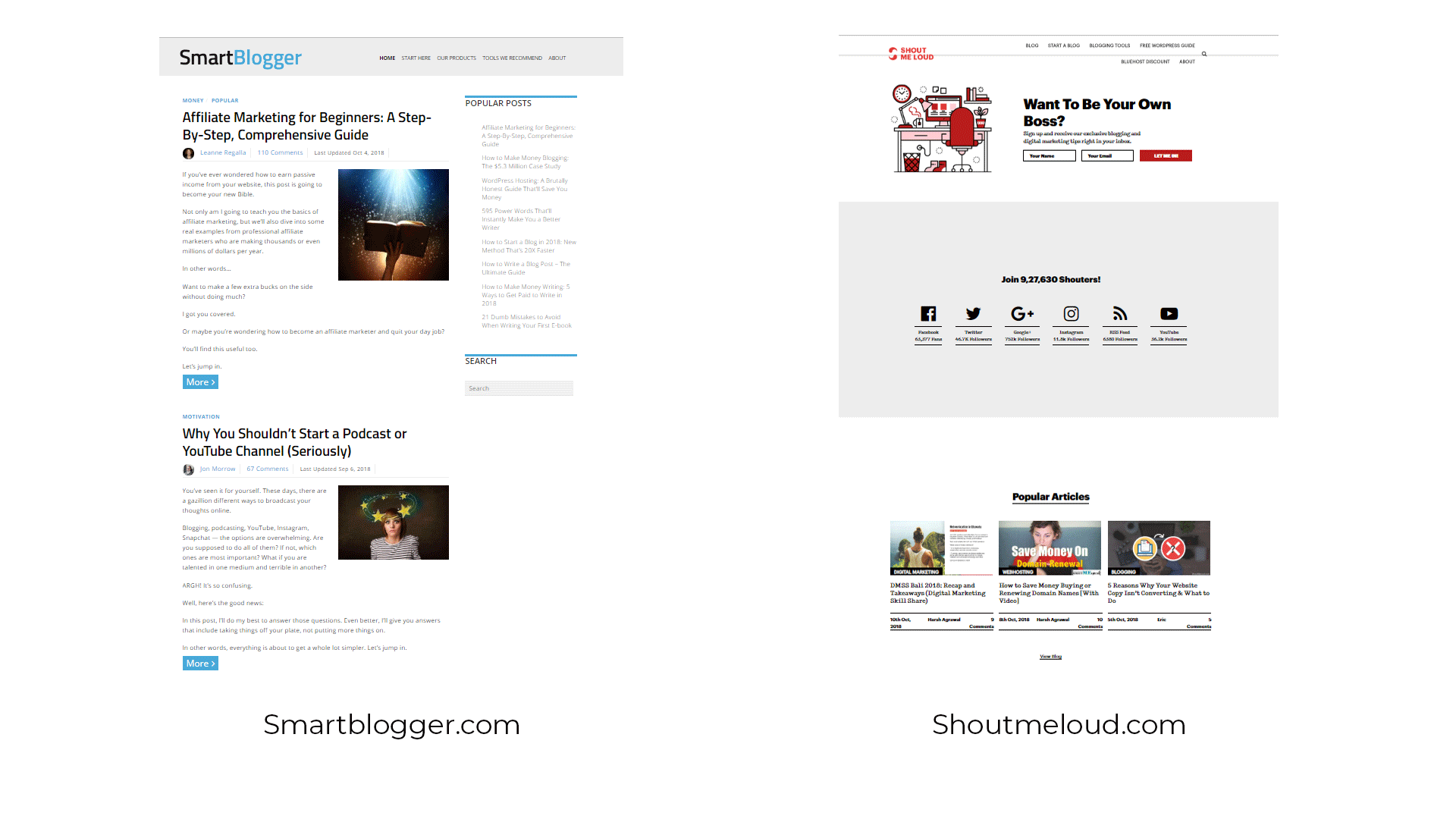 There is no good or bad type here, you can decide which one suits the best for your blog. But for beginners, making your homepage as your posts page will be much easier to set up. 
The next step is to design pages.
If you are using a theme like ContentBerg that we discussed above, you will have free access to the premium plugin 'WPBakery Page Builder'. It will allow you to design good looking pages on your blog without much effort.
Or make use of a plugin like Elementor to design pages on your blog. Elementor has a free version and a paid version. The free version is good to start with, but you can do great looking pages with the paid version, Elementor Pro. 
You can go through some of the popular blogs in your niche to get an idea about different designs.  And the tutorials on YouTube are really helpful.
If you are planning to use Elementor, make sure you checkout the free tutorials on their website.
Get started with any of these plugins and you will do fine. But initially, it might take some time to get a hold of these plugins and their interface. Your patience will decide your success.
Ensure you have the following pages on your blog.
Blog (Posts Page)

Home (if using a static homepage)

Contact

About

Services (If applicable)

Privacy Policy
These are the minimum pages required for any blog to start. 
Publish your first blog post
Writing your very first blog post and publishing it on your blog is kind of a big deal.
But you know what I did with my first blog post?
I wrote a long 3000 words article. It was pretty good, with great examples and what not.
But I did a mistake. I didn't do any keyword research before writing that blog post.
Eventually, people didn't see it and I ended up with zero traffic from the search engines.
It takes time to build search traffic, but even for a new blog, with proper keyword research you can bring in some traffic.
Before writing your first blog post, do some keyword research and fix on your topic and the headline.
Make use of the Keyword Magic Tool by SEMrush to do your keyword research. It will help you find the monthly search volume, difficulty and competition of keywords in your niche. SEMrush is offering a free 7 day trial in case if you want to explore its capabilities. 
I'll quickly say how you can do keyword research for your blog.
There are other ways and tools to do keyword research, but this one is pretty quick.
Decide on what topic you are going to write about and find out long tail keywords related to it.
E.g. If you are writing about 'digital marketing', you can find out long tail keywords related to it. Some of them are; 'what is digital marketing', 'how to learn digital marketing' etc.
Check for the monthly search volume of these long tail keywords using Keyword Magic Tool by SEMrush.
Pick one keyword from the list of long tail keywords for your blog post. This will be your focus keyword for that particular blog post.
Make sure this keyword has less competition (check competing sites on Google search) and has a search volume between 50-100 per month. This is low search volume, but it's okay for your first blog post, especially when your blog is brand new. 
Note: This idea will work only with long tail keywords with less monthly search volume. Such keywords will be easy to rank for, but will also depend on the competing sites and your content quality.
Now, make use of the chosen focus keyword in your title and content. Also, do your on-page SEO based on this keyword.
Apart from keyword research, the most important thing is content quality.
To become a successful blogger, you will have to write super high-quality content that goes above 2500 words. Write articles that contain in-depth information, and are insightful to readers.
I would suggest spying on some of the existing top blogs in your niche, and see how they have structured and written their content. 
You can use a tool like SEMrush to spy on your competitors. SEMrush will allow you to find so much data about your competitors. 
You can find your competitor's top keywords, their top performing articles in Google search, their backlink sources and so on. 
It is a great all in one SEO tool that will help all serious bloggers. You can get a free 7 day trial of SEMrush here.
Keep the below points in mind while spying on competition. 
Look at the topics they have covered 

See the way they have structured their articles

Check the length of their articles

Find out the target keywords on each of their articles (use SEMrush)
This will give you some idea about how to create content in your niche.
The next step is to create a post. 
You can create a post by going to 'posts' from your WordPress dashboard and clicking on 'add new'.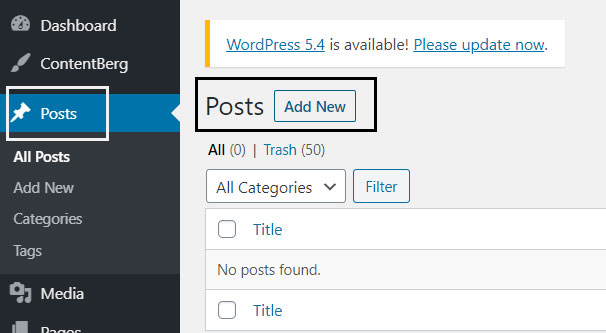 You can copy and paste your content here, add relevant images, give proper formatting and click 'publish'. This will make your blog post live.
Keep these important things in mind while publishing blog posts.
Do proper on-page optimization for your blog post (use a plugin like Yoast or RankMath SEO)

Assign relevant categories and tags to your post

Add a featured image (main image) to your blog post
You can go ahead and publish your blog post now.
Drive traffic to your blog
I will be honest with you.
This is the one phase where everyone struggles.
You can build a great blog with an attractive theme and super quality content, but what if you don't have traffic.
People just won't see your content at all.
That's why building traffic is important.
Majorly, you can rely on three sources for traffic.
Search Engines

Social Media

Paid traffic
Without a doubt, the best source of traffic ever is a search engine like Google. But getting ranked on Google takes time and effort.
I would suggest all of you to learn the basics of SEO and start applying it on your blog from day one. It may not give you instant results, but you will see the difference in the long run.
Make sure you learn the following topics and apply them on your blog. 
Keyword research

Technical SEO

On-page SEO

Off-page SEO

SEO writing
This will help you build a solid presence on search engines. 
As a beginner, another source of traffic that you can utilize most is social media. It will get you some instant traffic, unlike a search engine. However, social media is not reliable in the long run. 
Create accounts or pages for your blog on platforms like Facebook, Instagram, Linkedin, Twitter, and Pinterest.
When I started my blog, I was already active on most of these portals with my personal profile. I made the best use of my personal profiles to share my blog content. As my personal profiles had a decent number of connections, it actually helped.
In my experience, I see instant results whenever I share some of my blog posts on LinkedIn from my personal profile. Whereas there are people who get a good amount of traffic from sources like Pinterest.
Either way, social media will be a great help when you rank poorly on search engines in the initial days.
Another way to build traffic to your blog is paid ads.
But is it really worth investing in these ads for traffic?
If you are a beginner with less than 5 or 6 blog posts published on your blog, it may not be a good idea to go with paid ads.
But if you make use of paid ads for gaining email subscribers or selling affiliate products, that might actually pay off, even if your blog is comparatively new.
Ways to earn money from your blog
I believe you have got some idea about creating a blog now.
So, here's the most interesting part; generating revenue from your blog.
Majorly, there are three ways to generate revenue from your blog.
By placing ads on your blog

Through affiliate marketing

By selling your own products & services through your blog
Revenue from ads on your blog
Ads are a good way to generate revenue from your blog. The only thing is you need a good amount of traffic to your blog.
The popular platform that will help you place ads on your website is Google AdSense.
Google AdSense will show ads related to your content on your website, and whenever someone clicks or views these ads, you will get paid.
Without a good amount of traffic, it is difficult to generate revenue from your blog using ads.
This is because the amount that you get for each click on these ads are minimal. It can actually vary, but even then not all your visitors are going to click on your ads.
The money that you make will depend on your CTR (Click Through Rate).
For example, if 100 people visit your blog and just 3 of them click your ad, your CTR is 3%. So you will get paid only for those 3 clicks.
The amount that you get paid for each click is called CPC or Cost Per Click.
Also, the amount that you receive for clicks or views will depend on various factors including type of the ad, advertiser budget, and even your blog niche.
I would say, if you have a comparatively new blog, monetizing from ads is going to be difficult.
When you have at least 1000 unique visitors every month to your website, you can try placing ads on your blog.
With a 1000 monthly unique visitors, even if your CTR is 3%, you will have 30 people clicking on your ad.
And if your CPC is 0.1 $, you will get paid 3$ in total, every month.
Here's the simple math;
Monthly revenue = Number of people clicked on ads x CPC
In the same way, revenue can be measured using CPM (Cost Per Thousand Impressions) as well.
Another important thing is, Google AdSense is not the only platform that will help you place ads on your blog.
You can try other services like Media.net and Propeller Ads. They work in the same way, but their terms and conditions vary, and make sure you are thorough with all that before placing these ads on your blog.
Affiliate Marketing
The reality is, affiliate marketing works much better than ads when it comes to revenue generation from blogs.
If you don't have any idea about affiliate marketing, here is a simple explanation.
It is just like earning a commission for a sale that happened through you in the real world.
There are many networks and companies that offer affiliate programs online. You just have to promote their products on your blog, and if a sale occurs, you will be paid a certain percentage of commission.
Mostly, these sellers will give you a link to place on your blog. When a visitor on your blog clicks on one of these links, he will be redirected to the original seller's site. Where if a successful sale occurs, you will be paid the commission.
You can place these affiliate links within your blog post, or even as banners or CTAs.
There are different platforms that offer affiliate programs.
You can either go for affiliate networks like Amazon Associates and Click Bank or choose an affiliate program run by a company that's in your niche.
In networks like Amazon Associates, you can find products from many companies to promote. For example, if you have a blog about health and fitness, you can promote books on the same topic and also promote health supplements from various companies.
But when you pick an affiliate program by a company, you will be promoting only their product through that program.
For example, if you are a Bluehost affiliate, you will get to promote only their products through that program.
Mostly exclusive affiliate programs pay better commissions than affiliate networks.
And importantly, there are certain things that you should keep in mind before joining affiliate programs.
Promote products that you have personally used and found useful. That way you are helping your readers solve their problems.

Promote products that match with your niche. Don't promote a health drink on a home décor blog.

Write value adding content like 'how to' guides and explain how a particular product can be helpful to your readers. 
You can rely on search traffic, social media and paid ads for traffic to your affiliate blog as we discussed before.
In case of an affiliate blog, obviously the best strategy is to build a super strong organic search presence. But as you know, it doesn't come quick and easy.
Well, there are many affiliate marketers who manage to make good sums without relying on search traffic. They do it mostly through paid ads.
Facebook paid ads are a good way to drive traffic to your blog.
Create a good blog post, add affiliate links, and then drive paid traffic on to that page.
Never directly insert affiliate links on your ads, you will get banned by Facebook. 
And honestly, you can't rely so much on organic traffic from social media for affiliate marketing.
This is because the traffic from social media is more like spikes. You will see a surge of traffic right after you share something on social media platforms, but it's mostly gone after a couple of hours.
Now, before trying out affiliate marketing for the first time, read as much as possible about affiliate programs in your niche.
Look for affiliate networks and companies with decent commission structures. Make sure you go through all their terms and conditions before enrolling into any affiliate program.
Own Products & Services
This is probably the best thing you can do with your blog.
Yes, create your own products and services and sell it on your blog.
It is truly the most profitable way of monetizing your blog.
Even better than ads and affiliate marketing. 
Creating your own products
Depending on your niche, you can create multiple products that truly add value to your readers.
You can create courses, ebooks, checklists, and even webinars.
Many bloggers start with ebooks. But make sure it offers so much value to your readers. Ideally, they should be able to solve their real-life problems through your ebook.
There are two methods that you can use to sell your products;
Sell it directly on your blog as a download

Sell it on an e-commerce site like Amazon
On your WordPress site, you can make use of a plugin like Easy Digital Downloads to offer the ebook as a download. You can also set up payment options with this great plugin.
Another option is to place these ebooks for download on Amazon and offer a link from your blog to the Amazon product page.
When you create own products, it is going to add to your 'scalable income'. That means, once you put some great effort and publish an ebook, that is going to be there for a long time in the market. Each sale of that product after the launch will bring you some fixed revenue.
To put it straight, you don't have to work continuously. You can create a product and receive the income for a really long period thereafter.
Selling your services
Many budding bloggers start with offering services like consulting.
It is a great way to start generating revenue even before you make some affiliate commissions.
I got my first freelance project while I was working on my first blog post. Since then, I have had freelance works every other day.
Once you offer good services to some of your clients, you can actually acquire more clients through word of mouth and personal contacts.
Your blog will be the base of all this. It will help you get enquiries and showcase your expertise.
So what are some of the services that you can offer?
Here are a few.
Consulting
E.g. If your niche is health and fitness, you can offer consulting on fitness and weight loss or gain.
Services
E.g. You can always offer services like content writing, SEO, social media marketing etc. if your niche is digital marketing.
Training
E.g. In fact, you can make a good amount of money through training. One to one training programs are always in demand and the trainers are paid well. Again, this will depend on your niche.
Make use of email marketing
The truth is, you are going to fail miserably as a blogger if you neglect email marketing.
As famous bloggers have always said, the money is in the list.
Simply means, the number of subscribers you have in your email list will decide your success in blogging and generating revenue out of it.
You can start with setting up a couple of opt-in forms on your blog.
An opt-in form can be created to offer a free download like an ebook or a checklist. Your blog visitors will have to enter their email addresses and first names to download these freebies. 
Offer a freebie that's just irresistible. Try to convert maximum blog visitors into subscribers by placing multiple opt-in forms on your blog. 
Then write to your subscribers through personalized emails. Ensure you have email content that is value adding and problem-solving.
The best thing you can do is to start with a great welcome email right after they download your freebie. This will help you grab their attention into more of your content.
Also, be sure to nurture your subscribers through weekly emails with content that can actually help them solve their problems.
Of course you can sell affiliate products and own products to your email list. But a hard selling email to a new subscriber will be a bad idea.
Nurture your email list and then segment the list based on engagement. Send them soft selling emails based on their engagement. Then, yes, you can give them some last minute offers to drive conversions in a sales email campaign.
Even then, try to not sound spammy. Don't give them a feeling that you're here only to make money.
Hope you are getting it.
Also, the email marketing tools that you choose are critically important. Pick a tool that has options like opt-in forms, automation, segmentation and importantly good deliverability.
GetResponse is a good email marketing tool that you can rely on. They are offering a free 30 days trial without credit card, in case if you want to try it out.
Still, if you are a beginner I would recommend you to start with a free plan of MailChimp and then scale up based on the number of subscribers.
You can learn more about email marketing through other detailed articles and video tutorials before you actually try your hands on it.
Way to success in blogging
Just like any other trade out there, it takes a lot of commitment and hard work to find success in blogging as well.
There are a lot of people who start blogging and then drop it midway due to various reasons.
Consistency is kind of a big deal in blogging.
Especially when you are on a job, it could be hard to find time for blogging on some days.
But there is a little secret to overcome this. Okay, maybe not a secret. 
It's called, work less – but never stop.
For example, if you are dead tired after a long day, maybe don't work or work for just half an hour. But don't ever stop working on your blog for more than 3 days.
As I said in the beginning of this blog post, there are a lot of bloggers who are making big money from their blogs. You can look up on the internet for people like Syed Balkhi, Harsh Agrawal and Ryan Robinson. 
Syed Balkhi is the founder of popular WordPress learning website called WPBeginner. He also owns a number of other blogs and products such as OptinMonster. 
Most of these people have made big money through affiliate marketing and product sales. 
You can read through their story for more inspiration. 
Final Words
I hope now you have got some idea about starting a blog and making money from it.
This blog post is meant to be a beginner's guide. It can give you an overall idea about starting a blog, setting it up and generating revenue from it.
But I would suggest you to go through detailed articles on each of these topics when you are about to start a blog of your own.
Topics like affiliate marketing need a deeper understanding as there are many networks and companies offering affiliate programs.
If you believe you can start a blog on something that you like, do it right away. You will certainly learn a lot of things as you go forward.
Feel free to comment below if you have any queries or need any help.
All the best for your blogging journey.