How to Use MailChimp with WordPress for List Building
Just like many beginners out there, I started email marketing with a free plan on MailChimp.
MailChimp is a great email marketing tool with its easy to use interface and abundant features.
Interestingly, MailChimp works exceptionally well with WordPress.
That is why I have written this 3000 words blog post about how to use MailChimp with WordPress to help you get started with email list building.
For small businesses and budding bloggers, this is a real blessing. You can use a free plan on MailChimp and start building a solid email list with the help of a few WordPress plugins.
Luckily, it is pretty easy to integrate MailChimp with WordPress and get started on this.
So, let's find out how these easy tactics actually work. 
Note: If you are a newbie, I am adding links to all the relevant MailChimp and WordPress resources that explain the basics in this article. In case if you have a doubt, you can just click on the links and learn about it with the help of screenshots given in there.
Getting started with the MailChimp free plan
Before we talk about how to use MailChimp with WordPress, let's check out what's included in a free plan of MailChimp. 
Here's what's actually included;
Include up to 2000 email contacts in your mailing list

Send up to 12,000 emails in a month

Send email campaigns and choose from  templates

Use name tags

Create dedicated landing pages (custom domain not included)

Create lead capturing forms

Marketing automation

A/B testing
But that's not all, the MailChimp free plan also offers features like Facebook and Google remarketing ads.
However, in this article, we'll be mostly covering the email marketing aspects of it.
Building an email list
Ideally, an email list should be built out of people who come to your website and sign up on your opt-in form to receive your email updates.
You shouldn't be adding random email addresses to your email list by any chance.
And if you are buying email lists from third parties and blasting out email campaigns, get ready to receive that spammer title very soon.
But people are just not gonna come and sign up on your opt-in forms randomly, right?
Maybe they do, if you are Neil Patel or Seth Godin.
Interestingly, for people who aren't experts, there is something that actually works.
It is called a Lead Magnet.
So this is how it works.
You offer your website visitors a freebie, and it will be accessible only if they sign up on your opt-in form with their name and email address.
The freebie that you are offering here can be given in various forms. You can easily give out downloadable ebooks, checklists, templates, worksheets or even email courses.
Here is an image of a lead magnet below.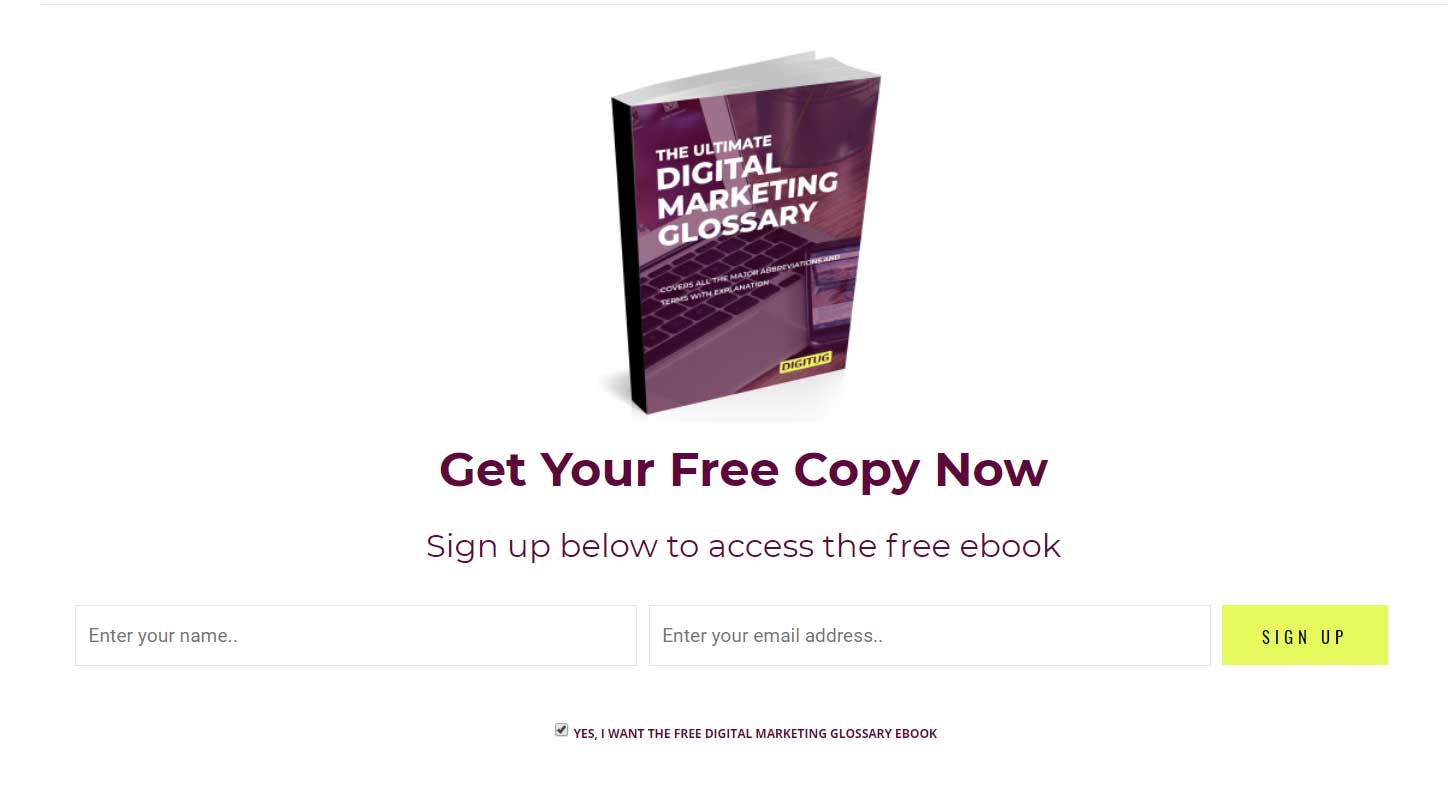 How to use MailChimp with WordPress and create a lead magnet?
To do this, you essentially need two things.
A WordPress website

A free account on MailChimp
And we will be making use of certain WordPress plugins to make this work.
Let's see how we can set up one of these.
Creating an email list on MailChimp
This is the first thing you have to do after creating a free account on MailChimp.
You can directly go to the 'Lists' tab on MailChimp dashboard and create one with a few clicks.
If you need further help, here is a walkthrough article about creating email lists on MailChimp.
When we create a new list, it will not have any email addresses in it.
So, in the next step, we are going to place an opt-in form on your website to collect email addresses from website visitors.
This opt-in form will add email contacts to the list that we just created above.
Placing an opt-in form on your WordPress website
There are multiple ways to place an opt-in form from MailChimp on your WordPress website.
The easiest one is to use a plugin.
And there are two methods that you can follow with plugins.
Use the

MailChimp for WordPress

plugin (free version) and use its form.

Use

Contact Form 7

plugin and integrate it with your MailChimp account using MailChimp for WordPress plugin (yes, the one we just talked about above).
Now obviously here the easiest one is the 1st method. It is quite easy to set it up and start collecting email contacts.
But the problem is, the form customization options are very limited on the free version of MailChimp for WordPress plugin. If you want better-looking forms, you will have to get the premium version of that plugin.
And the aesthetics of your form is pretty important when it comes to driving conversions.
So, we can solve it by going by the 2nd method that I listed above.
We can use Contact Form 7 to create an opt-in form and then link it to your MailChimp account using MailChimp for WordPress plugin.
Only thing is, we'll need to use two plugins at a time when we go by this method.
But you will get a form that is easily customizable.
The form on Contact Form 7 plugin is pretty easy to work on. You can even get pre-written CSS codes from various websites that you can just add to your custom CSS to customize your forms.
Here's a picture comparing the forms created using Contact Form 7 and MailChimp for WordPress plugins.
Creating a lead magnet
Have you seen those free ebook downloads that some websites offer in exchange of your email addresses?
I'm sure you would have seen at least a dozen of them across the Internet.
That is a typical lead magnet.
You can offer freebie downloads such as ebooks, checklists, worksheets etc. in exchange of email contacts.
Visitors to your website will have to enter their email addresses (sometimes first names as well) to access the freebie download.
This can be done with other free benefits such as email courses, video lessons, and webinars as well.
The whole aim of a lead magnet is to convert a website visitor into an email subscriber.
I have personally tried two lead magnets with a MailChimp free plan on one of my WordPress websites.
One was a free ebook download, and the second one was a free email course (a series of emails sent over a specific time period).
If you are trying for the first time, an ebook will be easier to set up than an email course.
But whatever it is, your freebie download should be really attractive and tempting.
Something that is really value-adding, and importantly it should project its real value.
I personally offer a free Digital Marketing Glossary ebook on my blog which covers more than 100 terms with explanations.
It took some time for me to create it, but it actually does convert visitors.
How the lead magnet should work
So, this is how the lead magnet should work.
Once you set it up, it should add subscribers to your list automatically, even when you are sound asleep.
Here's the step by step process flow.
A visitor comes to your website

Sees your lead magnet (free ebook) and finds it interesting

Signs up on your opt-in form to get the ebook

Receives an email asking them to confirm subscription.

Clicks on the 'confirm subscription' button in that mail body, gets redirected to a landing page. (The user is successfully added to your email list in this step)

This landing page will have the downloadable freebie that users can download with the click of a button.

The newly added subscriber receives a welcome email from you in the next 5 minutes.
An alternative to sending your subscriber to a landing page (step 5 in the above list) is to place the download link within a second email that the subscriber will receive right after he confirms subscription.
But I would say redirecting the subscriber back to your website for the download will be a better idea than just giving him the download link in an email.
Well, let's come to the inner workings.
The sections given below will guide you through the process of setting up a lead magnet.
Connecting your MailChimp account to the form placed on your WordPress website
To do this, you need to have MailChimp for WordPress plugin installed and activated on your website.
After activating it, you need to find your API key in your MailChimp account and add it to your MailChimp for WordPress plugin.
To find your API key, login to your MailChimp account and follow the below steps.
From the account dashboard (the page you find after logging in), click on the drop-down menu on the top right corner.

Click on 'account' option from the drop-down menu.

On the account page, find the extras tab

Click on API Keys in extras tab

On the API Keys page, you will find the API Key for your account. It will be an alphanumeric code, and it is not be shared with anyone.

Once you find the API Key for your MailChimp account, you can copy it and paste it inside your MailChimp for WordPress plugin.
You can follow the below given steps to do it.
Click on MailChimp for WP on the left column on WordPress dashboard

Choose 'MailChimp'

Enter the API key that you got from your MailChimp account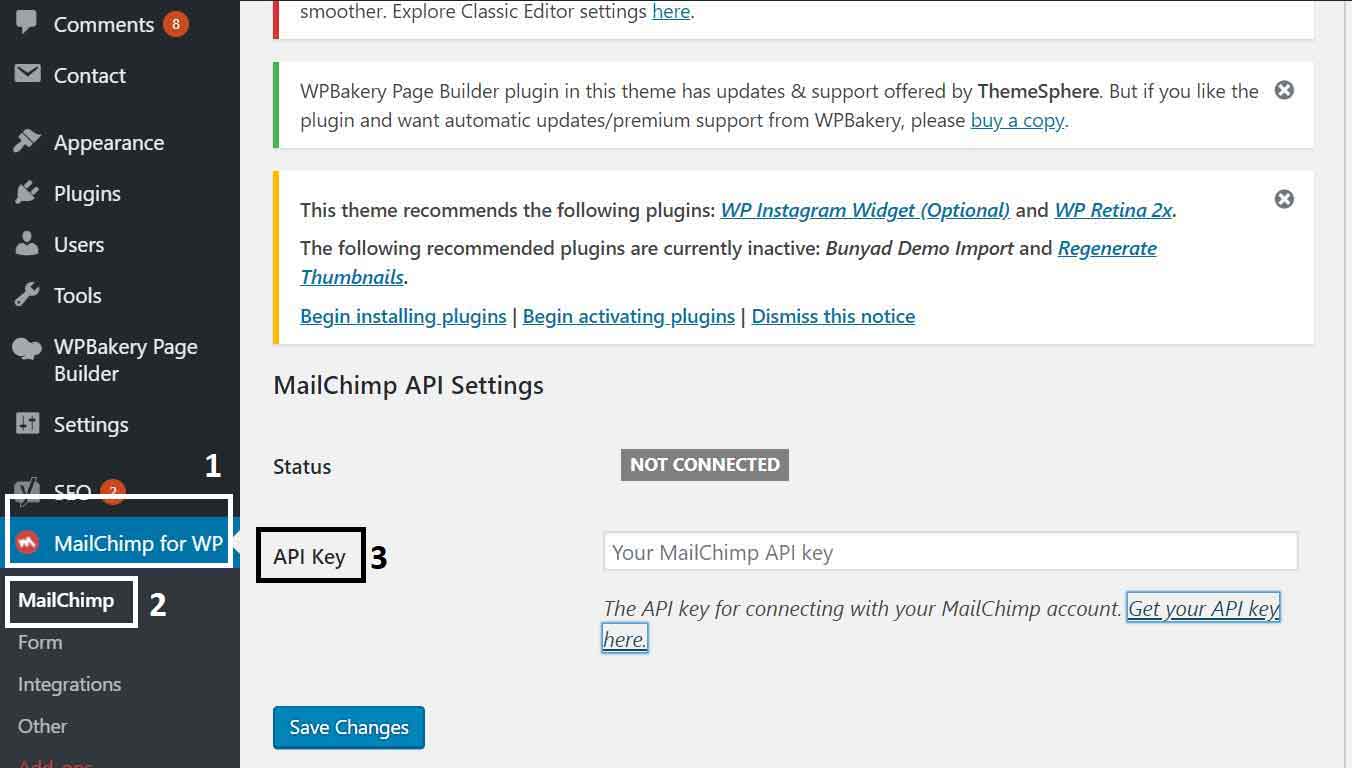 Once you enter your API key and click 'save changes', you are ready to go.
You have successfully connected your MailChimp account and your WordPress website using MailChimp for WordPress plugin.
Now, the next step is to create an opt-in form that will be associated with your lead magnet.
As we discussed above, we are going to use Contact Form 7 plugin to create the form here, as it is easily customizable.
The first thing we need to do here is to integrate MailChimp for WordPress plugin with Contact Form 7 plugin.
You can follow these simple steps to do it.
Under the MailChimp for WordPress tab on your left column in WordPress dashboard, find 'integrations'.

Inside 'integrations', find Contact Form 7 and click

there.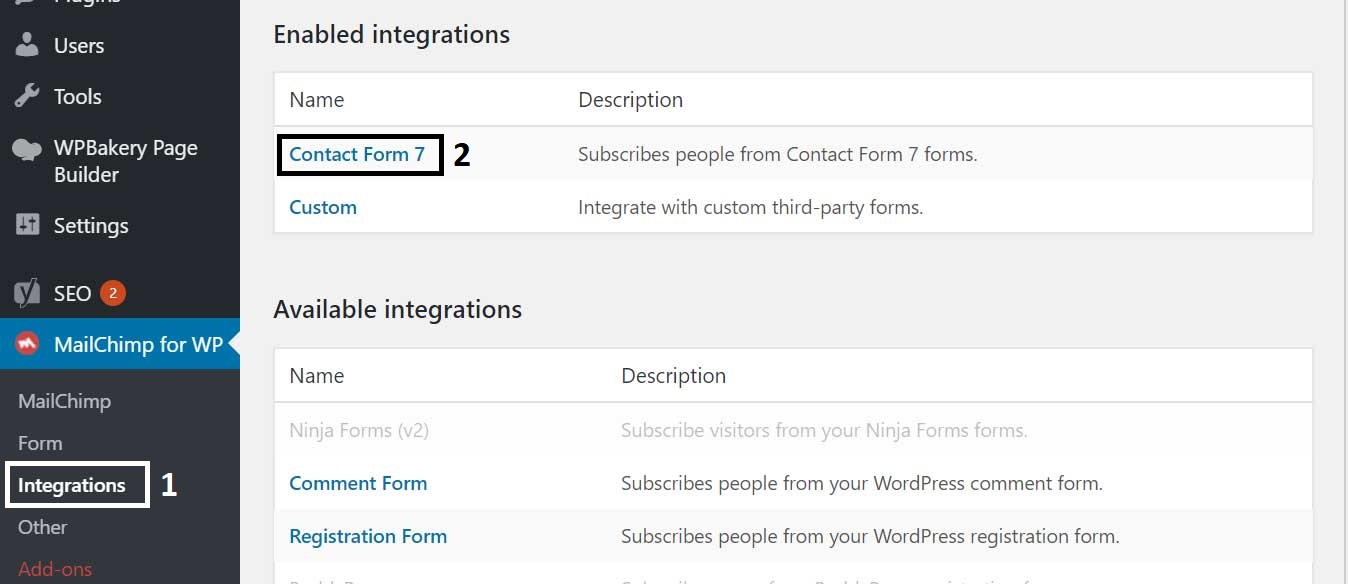 When you click on Contact Form 7, you will be redirected to a page where you can choose your MailChimp email list that is to be linked to the form.
It will also give you a shortcode for a checkbox that has to be added to the Contact Form 7 markup. This shortcode is necessary to make a connection between these two plugins.
You can also change the checkbox text if you wish to.
There are a couple of more options on this page which can be left as it is.
But ensure the double opt-in feature is always enabled by choosing 'Yes' in these options. (see below image)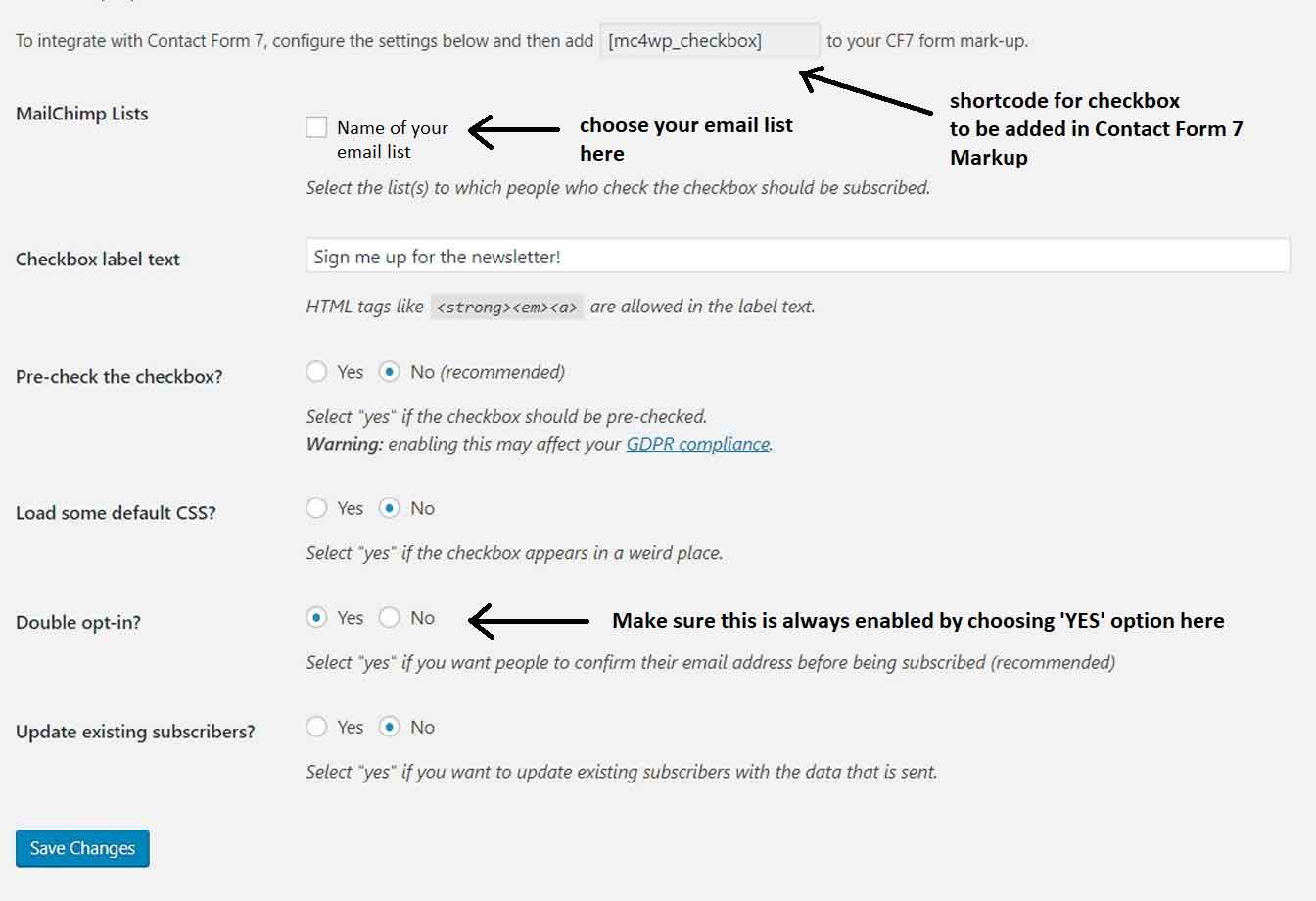 After choosing your email list in the above step, you can go and edit the markup in Contact Form 7 plugin to add the checkbox shortcode from MailChimp for WordPress plugin. (see the image below)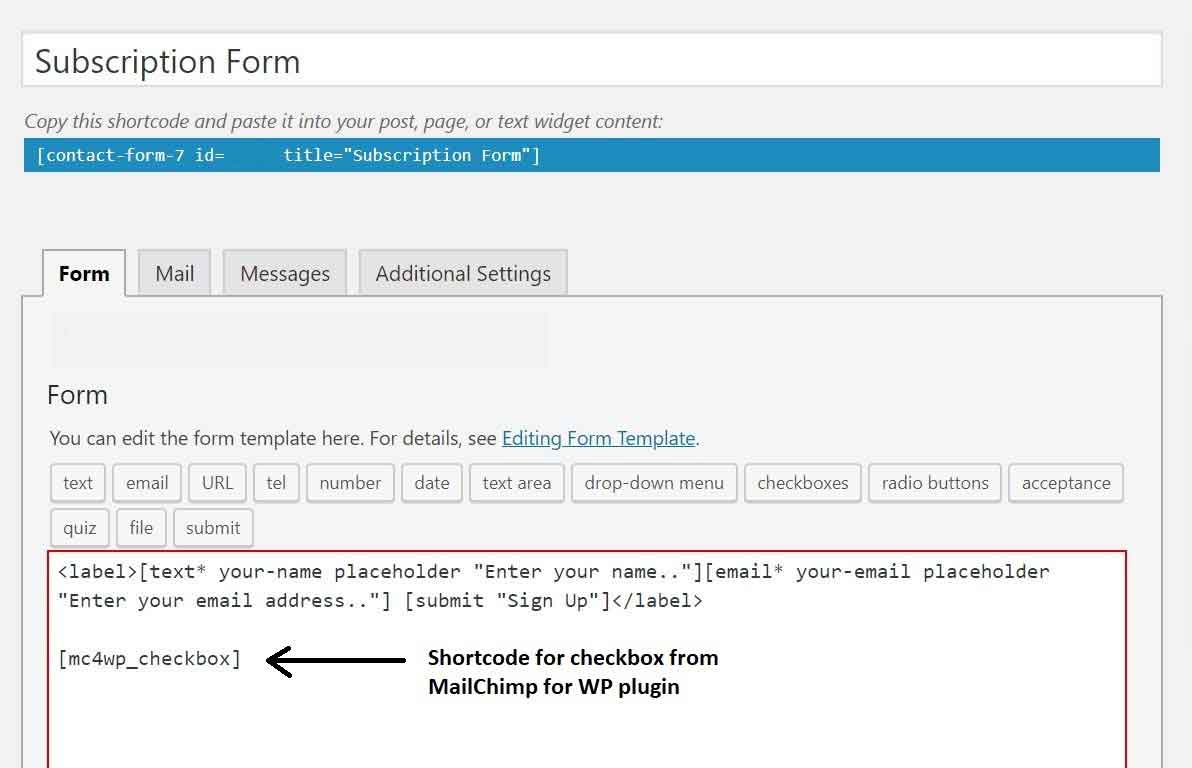 Now in this image shown above, I have included two fields in the opt-in form.
They are name and email address.
And the form will also display a checkbox that we will get as we have linked MailChimp for WordPress and Contact Form 7 plugins by adding the checkbox shortcode inside Contact Form 7 markup.
The below image shows an opt-in form that I have set up on my website.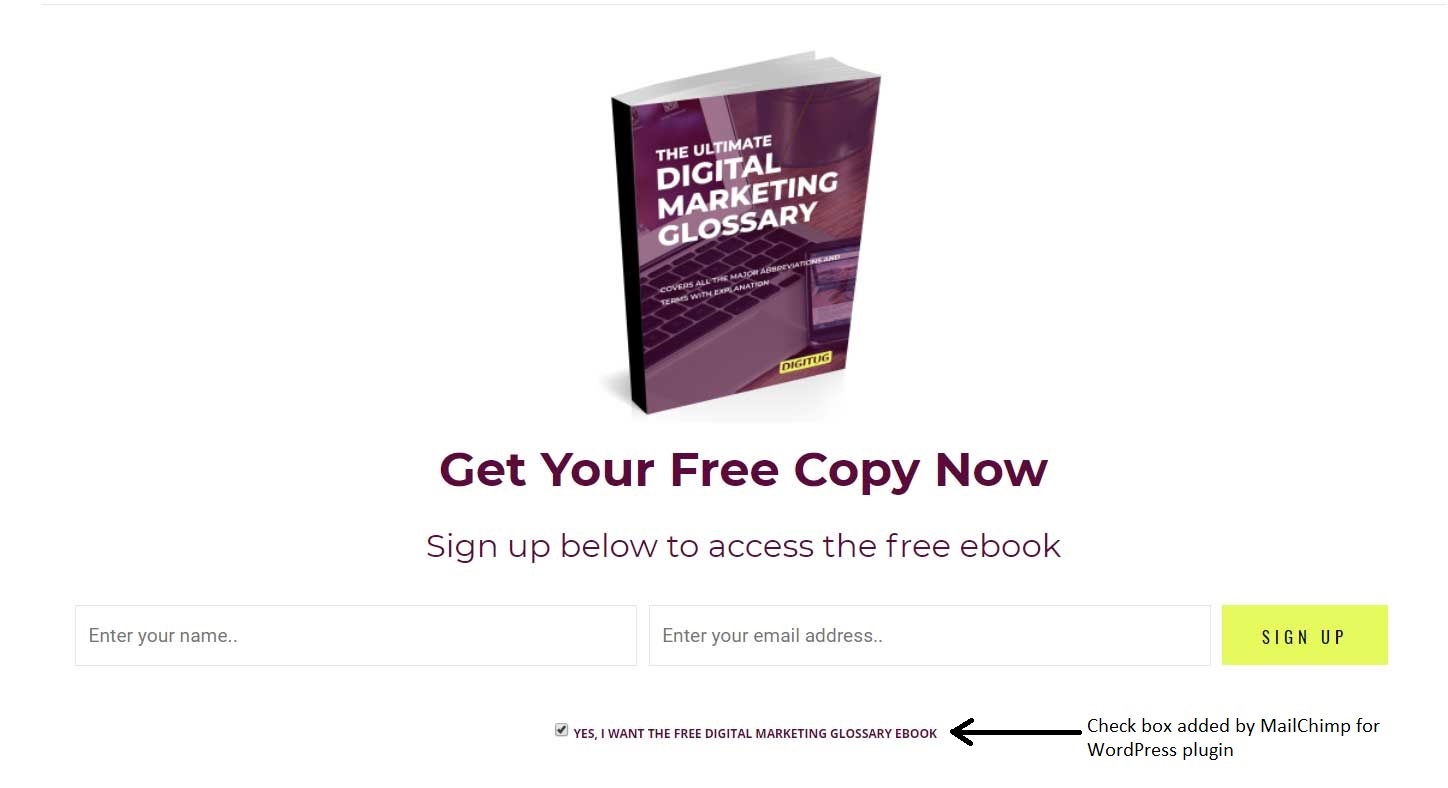 The checkbox text here confirms whether they want this particular ebook. In the same way, you can customize the checkbox text inside MailChimp for WP plugin.
Now that the form is ready, the next step is making your lead magnet available for download.
Setting up the lead magnet
The next step is to host the lead magnet (eg. downloadable ebook) so that it will be available to download for everyone who signs up on your opt-in form.
On a WordPress website, an ebook in PDF format can be uploaded to the media library and the URL can be copied.
People clicking on this URL will be able to directly download the free book.
The best thing you can do is to create a landing page and give a download button on this page that links to the downloadable file that we have already hosted in the media library in WordPress.
If you use a page builder plugin like WP Bakery Page builder or Elementor, you can set up a button with a few clicks.
Now, to direct the users to this landing page, we need to add a link to this page on the opt-in confirmation email.
When people click on the 'confirm subscription' button within the mail, they should reach this landing page.
You can do it by following the below steps within your MailChimp account.
1. Click on the 'Lists' tab inside MailChimp dashboard (the page that you see when you log-in)
2. Click on the list that you want to edit
3. Click on 'Sign up forms'

4. Choose 'form builder' from the window that appears next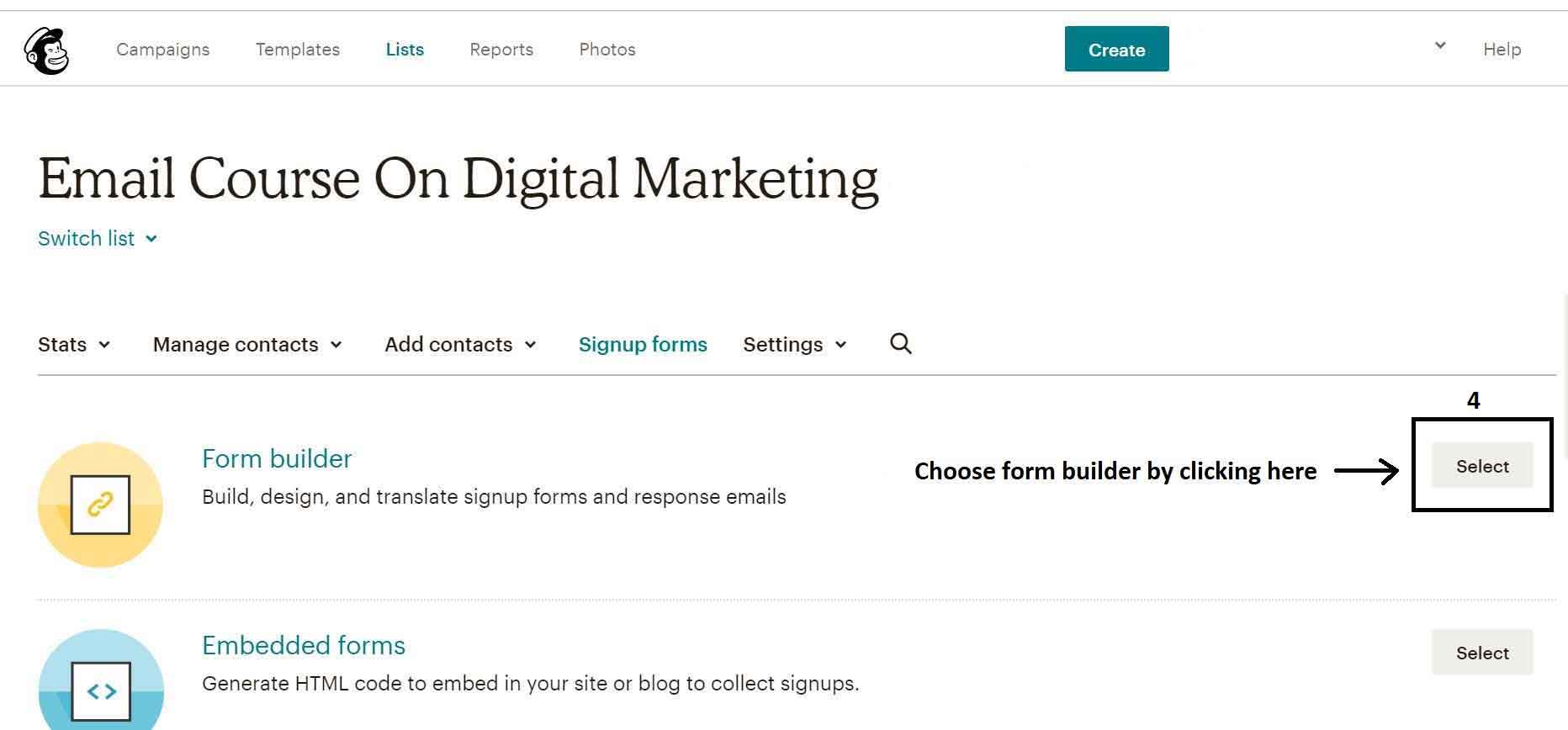 5. From the drop-down menu shown below 'forms and response emails' heading, choose 'confirmation thank you page' (see image given below)
6. See the option below which says – 'Instead of showing this thank you page, send subscribers to another URL'  – enter the URL of your landing page in this field and click save.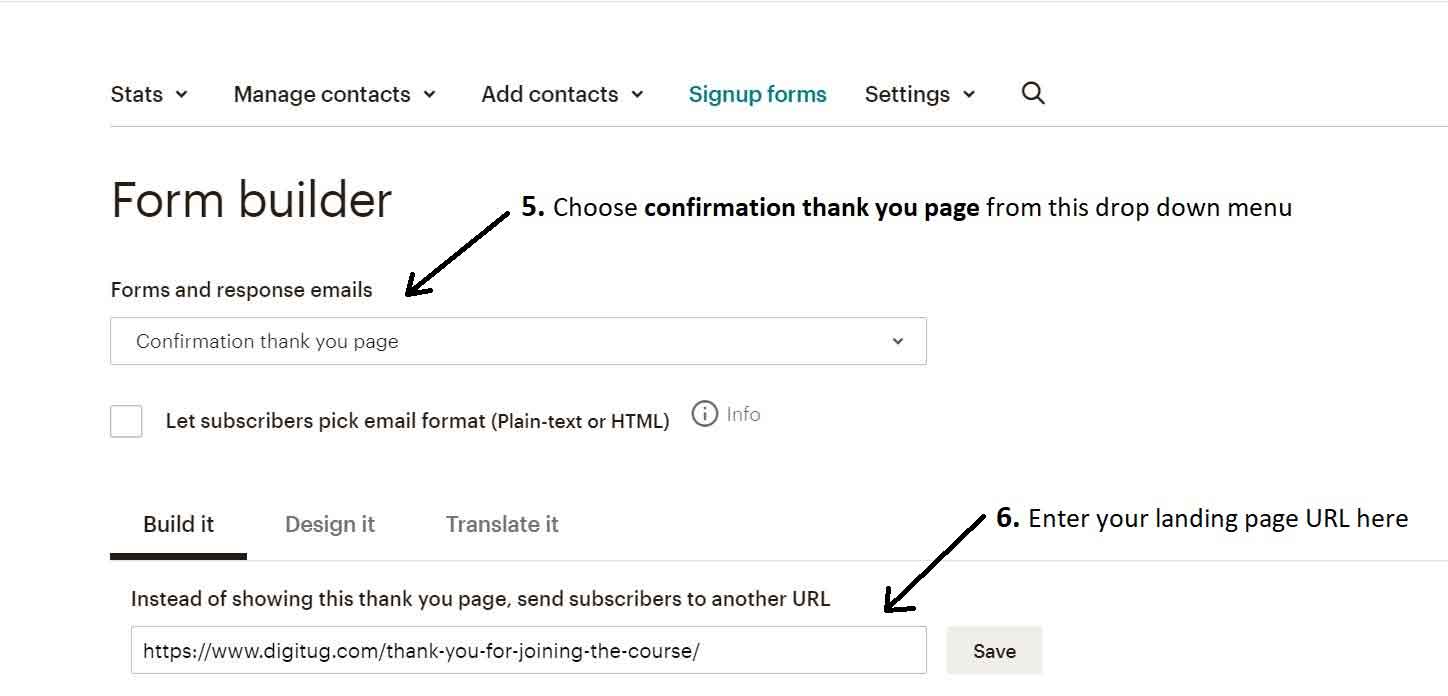 Now if everything goes well, people who click on the 'confirm subscription' button inside the opt-in confirmation email will be redirected to your landing page where your freebie (eg.e-book) can be downloaded.
And make sure this landing page is not indexed in any search engines. If this page is visible on search results, someone may come and download your ebook and you will end up not collecting any of their valuable email addresses.
If you make use of a plugin in like Yoast SEO already, you have an option to make any page not indexed by search engines. It's just a few clicks away, nothing complicated.
Another very important step is to ensure that you have opted for double opt-in inside your MailChimp account.
Follow the below steps to enable it.
1. Log in to MailChimp account and click on the 'lists' tab
2. Choose the list that you want to work on
3. In the window that appears next, click on 'settings' and choose 'list name and defaults' from the drop-down menu (see the image below)

4. Enable 'double opt-in' under 'form settings' in the window that appears next.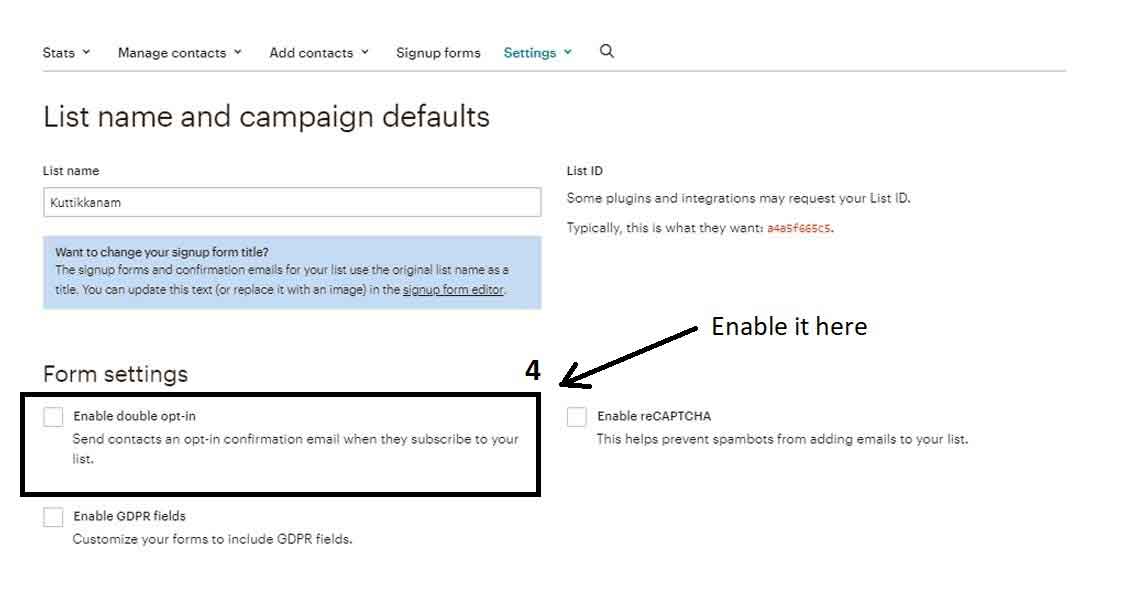 5. Finally, click 'save list and campaign defaults' at the bottom.
Remember, we have already enabled this feature inside MailChimp for WordPress plugin. But we have to do it inside MailChimp account as well.
This is necessary to send out opt-in confirmation emails to everyone who signs up on your opt-in form.
Set up a welcome email to be sent to new subscribers
Honestly, you shouldn't be ignoring a welcome email to be sent to your newly added subscribers.
You can send out an automated welcome email right after a new subscriber has been added to your list.
Ideally, they should receive this email within 5 minutes after downloading your ebook or any other freebie.
You can make use of the automation feature in your MailChimp account to get this done.
Check out these simple steps below to set up your welcome email.
1. Login to your MailChimp account and click on 'create campaign'.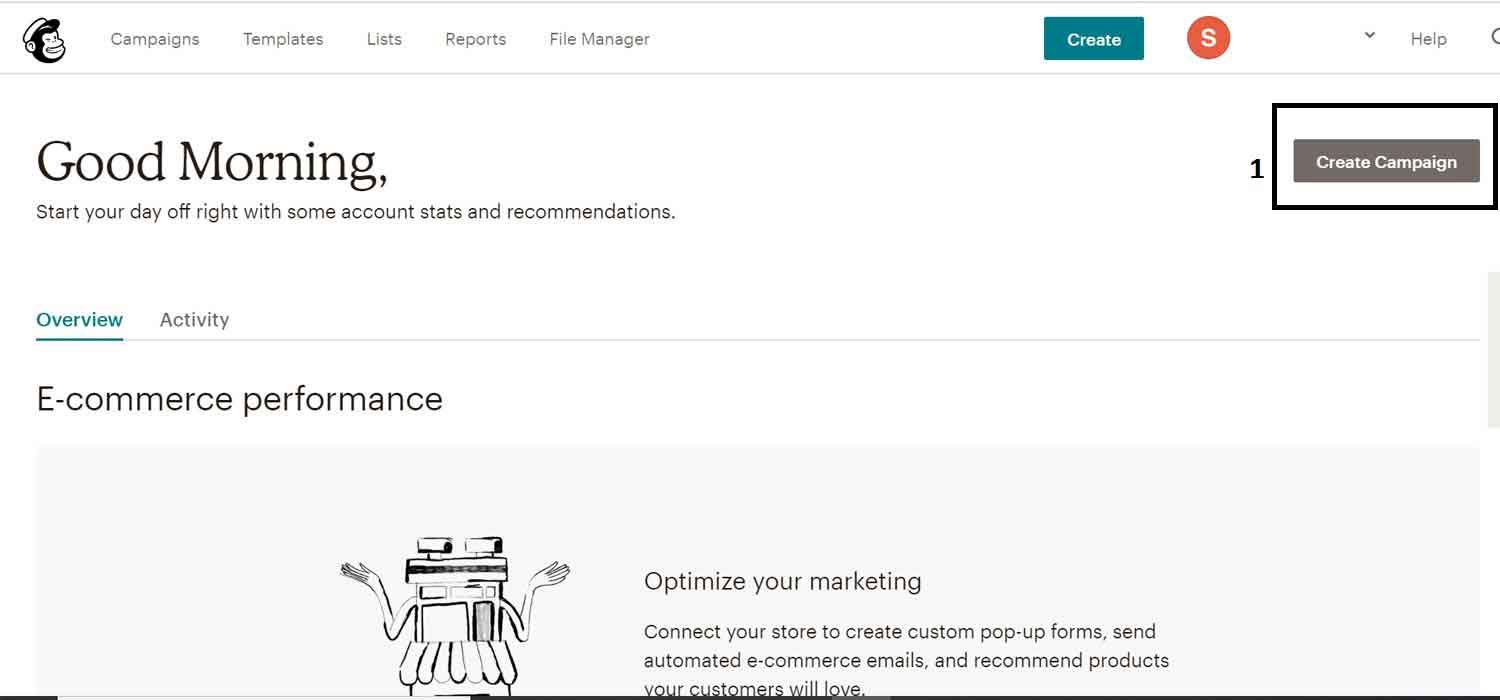 2. Choose 'email' from the next window that appears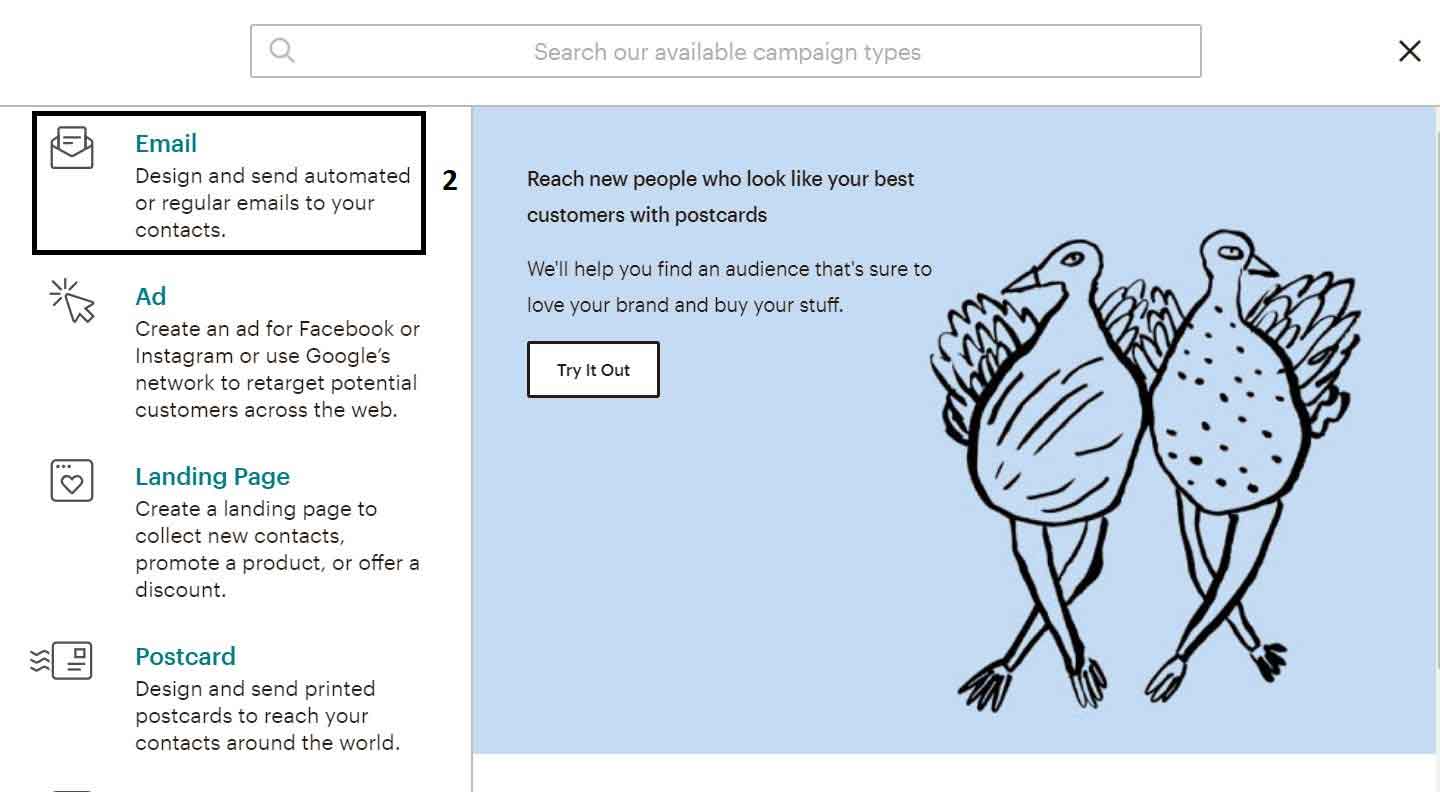 3. Click on the 'automated' option in the next window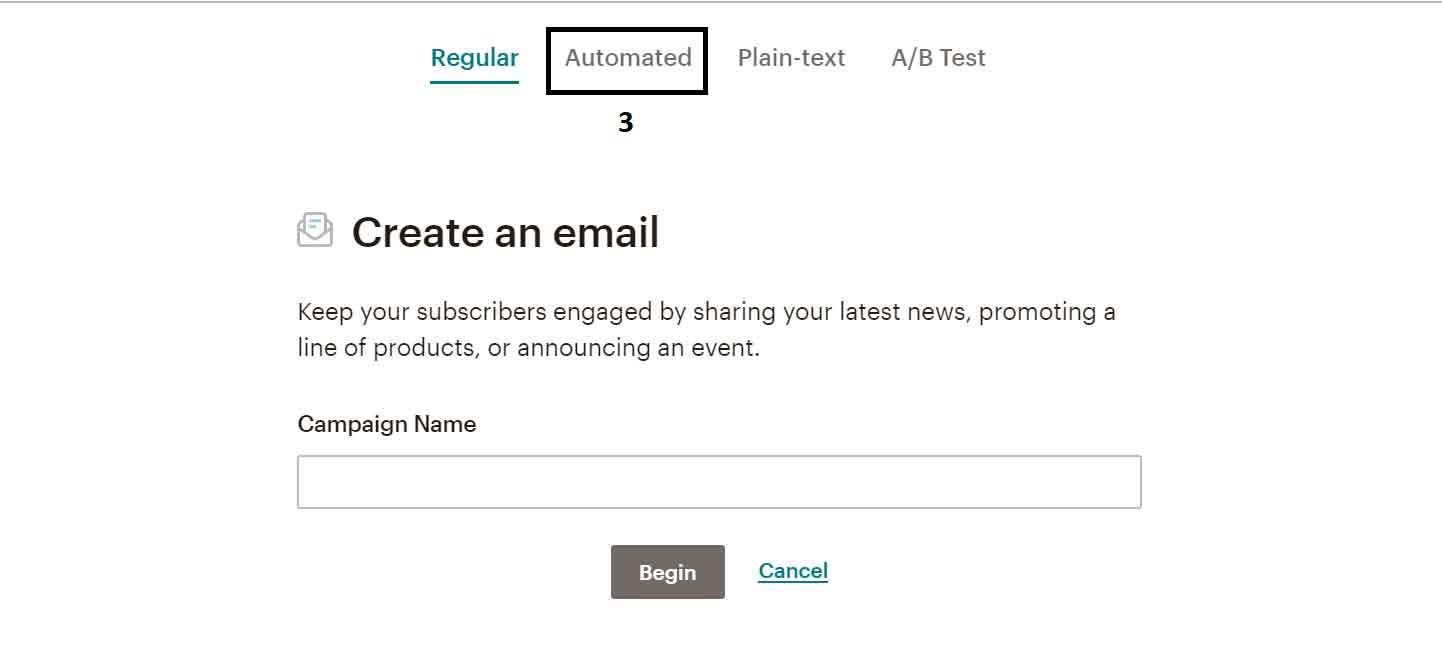 4. Choose the 'welcome new subscribers' option from 'create an automation email' window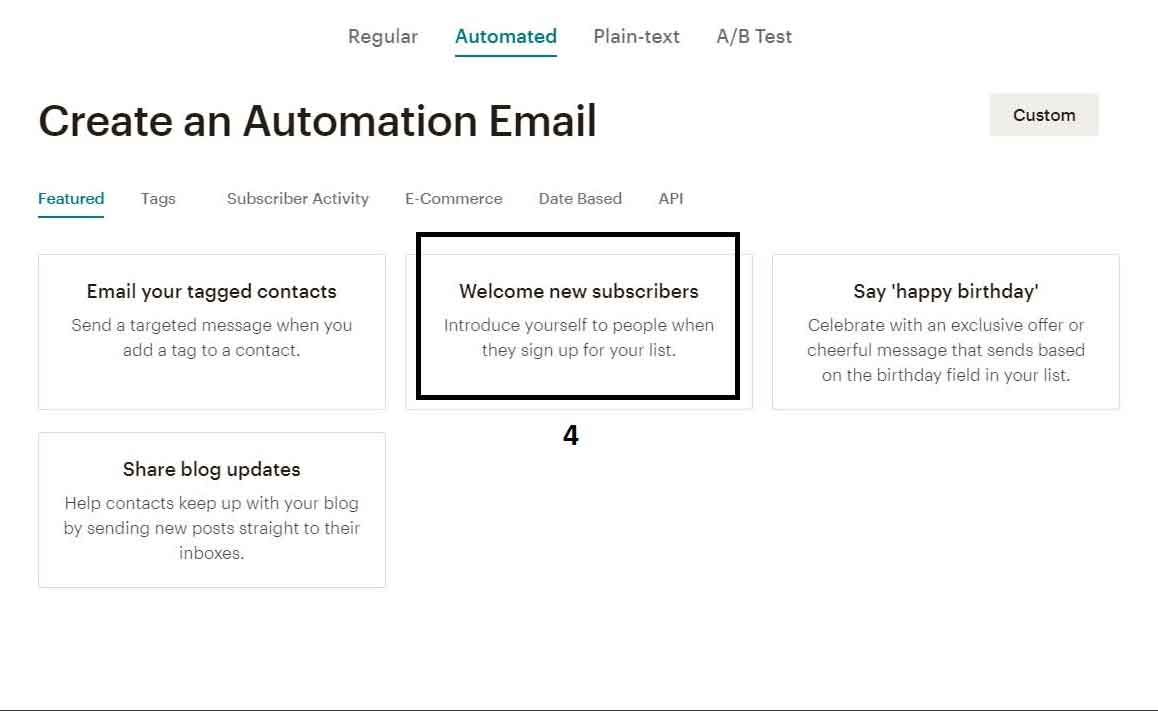 5. In this step, you can assign a name to your campaign and choose your email list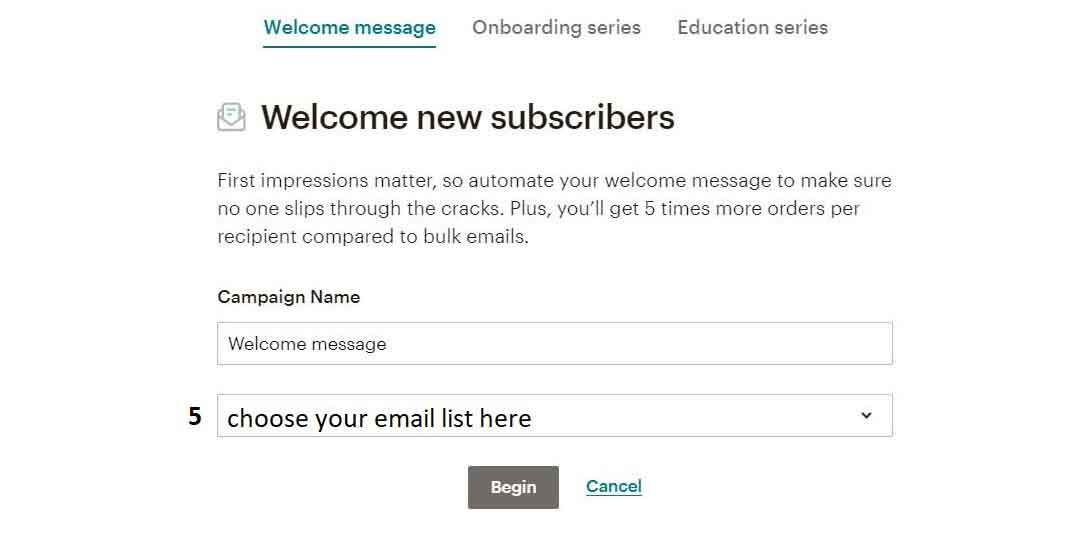 6. In this step, you can edit the trigger. This will decide when your automated email has to be sent out.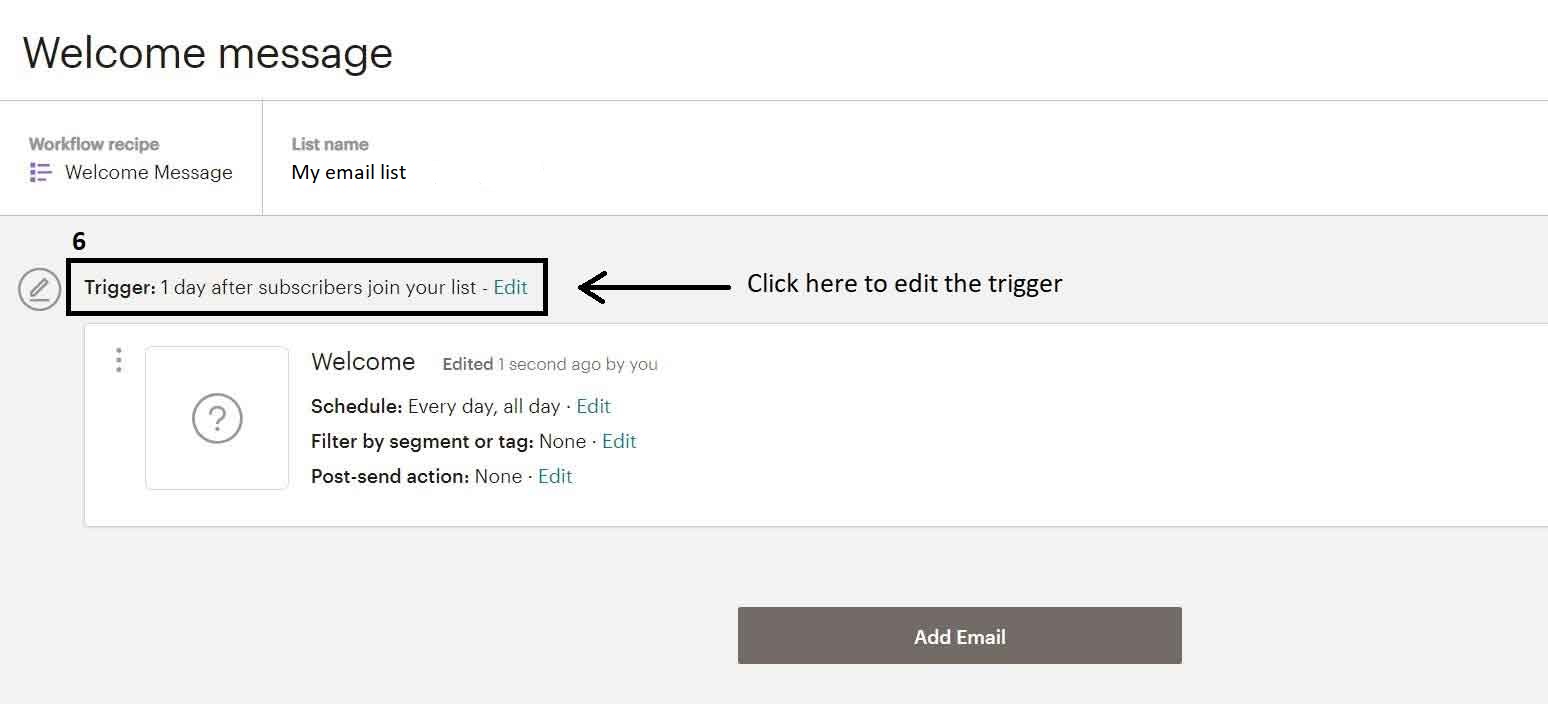 7. The delay can be set to 'immediately' and the email can be triggered 'when new subscribers are imported'.

8. Once the trigger is updated, you can go ahead and design your welcome email.

In the next steps, you can decide the content of your email, complete the campaign set up and start sending your automated emails.
Importantly, make sure your welcome email content is catchy enough to get your subscribers hooked.
You can tell your subscribers about what value you are going to add them through your future email campaigns.  
And remember, this is your welcome email. So don't even think of being a little bit salesy.
Promoting the lead magnet
There are multiple ways to drive traffic to your lead magnet.
But here are a few ways that you can actually try out.
Share your page containing the lead magnet on social media. Make use of Facebook, Twitter, LinkedIn, Instagram & Pinterest.

Place a link to your lead magnet on the sidebar, so that it is visible to all your website visitors.

Create a link to the lead page from your homepage. You can keep one above the header using a free tool like Hello Bar. And also keep one link just above the footer.

Talk about your lead magnet in your blog posts. Offer a contextual link to your lead magnet from your top performing blog posts.
There are other methods as well to promote your lead magnet, but these ones are pretty quick to implement.
Testing the system
There is nothing here that falls into the 'set it and forget it' category.
Before your lead magnet and opt-in form goes live, you will have to test it multiple times to ensure it's working as planned.
Keep an eye on the below-given points.
Send emails using a

custom domain

Ensure your emails are authenticated using

DKIM and SPF records

Check how the opt-in confirmation mail is getting delivered to people who sign up (ensure it is not going to spam)

Ensure users are getting diverted successfully to the landing page

Make sure your freebie download is working fine

Ensure your welcome email is catchy enough, and monitor its open rate

Collect the first name as well along with email address. This will help you make use of name tags in future campaigns.
To wrap up
I know it's been a lot of steps and screenshots that you just saw up there.
Hope you have got some idea about how to use MailChimp with WordPress for list building now. 
If you are just starting out with your email marketing and want to build a solid list of email subscribers, this is the best tactic that you can follow.
Especially, if you are in your early stages and not really into spending a monthly amount for your email marketing tool.
The method shown in this blog post doesn't cost you anything to set up. The tools and the plugins used are all free.
But if you want to scale up, and your list is growing at a fast pace, I would seriously suggest getting a paid email tool and form options.
Hope this helps.
Do you have any queries or feedback?
Feel free to let me know in the comments.