40 Email Marketing Tips That Will Help You Send Campaigns like a Pro
There are so many debates happening over the effectiveness of email marketing. Some say it is dead and others say it is highly effective.
But I always go by the famous saying, "money is in the list". Which simply means the money lies in your email list and a large email list with quality subscribers will help you earn more money. 
Email marketing, unlike other channels, is more personal and has the best ROI.
Though email marketing has these benefits, many are not able to get the best results out of their email campaigns.
This is because they are not following the best practices or are not focusing on improving certain key metrics.
In this article, we will discuss 40 important email marketing tips that will help you get the best results out of your campaigns.
Why is email marketing important?
Before going deep into these email marketing tips, I will tell you why email is one of the best marketing channels out there.
According to an article published by AdWeek, email marketing has a conversion rate of 3.19 percent on average. But the more discussed social media has on an average only 0.71 percent conversion rate.
Also, as per an article published by HubSpot, email is the most preferred channel among B2B marketers, and it generates $ 38 for every $ 1 spent, which is a whopping 3800% ROI.
What is important in email marketing?
Now, let's look at what can make your email campaigns successful.
In email marketing, you need to focus on 3 important metrics to achieve results.
These are your open rate, click rate, and delivery rate.
If you work on improving these metrics, you will get the best out of your email campaigns.
But before you start working on them, here is what you need to know about the industry average.
Average email open rate worldwide: 22.86%
Average click-through rate worldwide: 3.71%
Source: Get Response Email Marketing Benchmarks 2018

And importantly, always keep your email delivery rate above 95%. This is crucial in improving your email open rate and click rate.
Email marketing tips to make your campaigns more efficient
Now that we know how important it is to invest in email marketing for any business.
The success of your email campaign would revolve around the 3 metrics we discussed above.
So, here are 40 email marketing tips that will help you send campaigns like a pro and get outstanding results.
1. Pick a good email marketing tool
It is important that you use a good email marketing tool to send out your campaigns.
Marketers these days prefer tools based on various factors, but here are a few important ones to consider when you choose an email marketing tool.
User friendliness

Deliverability

Pricing

Opt-in form availability

Integrations

Tags and segmentation

Automations

Reporting
I feel all these 8 factors are crucial to a good email marketing tool. But if you need any other specific features (e.g. CRM integration), you should certainly go for it.
When we take into account all these, I have 3 email marketing tools in mind that I can wholeheartedly recommend to anyone who wants to send campaigns and get real good open rates.
Here they go;
Now here is why I choose them.
Convert Kit is the best email marketing tool that you can have if you are a blogger or a content creator.
Their deliverability is excellent.
Also, they have automation features that are easy to set up. The tool will allow you to tag your subscribers and add them to the same email list even when they opted in from different forms or lead magnets.
If you want to spend a little less than what you pay for Convert Kit to get similar features, go for Active Campaign. They also have features like automation and tagging. Their deliverability is pretty good as well.
And if you are just starting out in email marketing and want better pricing than the above two tools, MailChimp is the best.
Their free plan is seriously good enough, it is user-friendly and has features like automations.
And when your number of contacts go beyond 2000, you can opt for their paid plan.
But for integrating the tool with platforms like WordPress, you will have to rely on third-party plugins, and also it is a list based tool.
2. Create an email marketing strategy
To find results from email marketing, you essentially need to have a strategy.
Randomly sending out email campaigns whenever you feel like is not a good idea.
Your email marketing strategy should address the following things
The objective of your email campaigns: creating engagement, driving sales etc.

Target open rate / click rate

The type of email campaigns that you are going to send: value adding vs. promotional

Type of email content: text-based / template based

Email campaign frequency: how many campaigns in a week/month

The audience that you are going to target: lists and segments
3. Keep a campaign calendar
If your business is trying to build a group of trusted audience through email marketing, a campaign calendar is a must.
It will simply tell you when to send your campaigns on a daily, weekly and monthly basis.
Your campaign calendar will contain the following information;
Campaign name

Campaign type (e.g. promotional / value adding / sales email)

When to send: date and time

Any other comments related to each campaign or date
The format can be like a normal calendar or the popular social media calendars available online created as MS Excel files. A sheet can be created for each month, and the campaign details can be updated in the columns or cells representing each date.
4. Use your domain names wisely
Using your main domain for email marketing is a conflicting topic.
There is nothing wrong in using your main domain for email campaigns if you have a small email list.
But using a domain for mass email marketing campaigns (to a large list) can affect its reputation, and in-turn affect your deliverability.
The problem arises when you use the same domain for marketing as well as transactional emails.
And if you use the same domain for transactional emails, your email deliverability there also could be affected. Missing out or not delivering transactional emails could put your business in serious trouble.
But then there is a solution.
Instead of using a common main domain for marketing as well as transactional emails, you can create a subdomain and use it only for marketing emails.
For example, if your main domain is example.com, you can create a subdomain like marketing.example.com and use it only for your mass email marketing campaigns.
So it will be like this;
You will have to use surej@example.com for transactional emails and surej@marketing.example.com for mass email marketing campaigns.
Any change in domain reputation related to email engagement will affect only your subdomain and your main domain will be spared from reputation issues or blacklisting.
This is a practical way to keep your main domain safe and send mass email marketing campaigns to larger lists.
5. Authenticate your emails using DKIM
DKIM stands for Domain Keys Identified Mail.
DKIM allows the email recipient to verify that the message was actually sent and authorized by the owner of that domain.
This is done with the help of DKIM signatures placed in the header of a message.
Generally, your email service provider (e.g. G Suite) will give you a CNAME record to be added in your DNS section.
This will enable DKIM authentication for all your emails.
In the same way, CNAME records corresponding to your domains will be given by email tools (e.g. MailChimp) as well. They can also be added to your DNS.
DKIM authentication will prevent your emails from landing in spam. It can also improve your deliverability and thereby open rate.
6. Authenticate your emails using SPF
SPF stands for Sender Policy Framework.
SPF authentication compares the actual IP address of the sender to a list of IP addresses that are authorized to send emails from that domain.
This is enabled by adding a TXT record given by your email service provider or email tool to the DNS section of your domain.
If your emails are not authenticated with SPF, they can land into spam or get blocked from delivering at all.
In case if you are facing deliverability issues, you can use a tool like Kitterman to check for the SPF records in your DNS.
7. Make use of DMARC authentication
DMARC stands for Domain-based Message Authentication, Reporting & Conformance.
DMARC is comparatively new when compared to DKIM and SPF authentication methods.
The interesting thing is, DMARC is based on DKIM and SPF. You need to authenticate your emails using DKIM and SPF first and then enable DMARC authentication.
DMARC ensures that an email sent from your domain is properly authenticating against present DKIM and SPF standards.
It helps in detecting and preventing email spoofing, often used as part of phishing and email spamming.
Just like DKIM and SPF, a DMARC record has to be added to the DNS section of your sending domain.
You can create a DMARC record for your domain by using a tool like Proofpoint
8. Enable rDNS
If your tool allows the rDNS option, you can enable it to further improve your email deliverability.
Here, rDNS stands for Reverse DNS.
When you enable rDNS, email service providers will be able to look up your IP and see the domain it is associated with. If the IP that you are sending from is found to be not associated with your domain, that can prevent your emails from delivering into inboxes.
Not all email marketing tools allow this feature. But I have personally used this feature with Send Grid.
Email marketing tools will provide you with an 'A' record to be added in your DNS. This will help you enable rDNS for your IP and domain.
9. Place an opt-in form
An opt-in form is the proven solution to adding new email subscribers.
Ideally, you can ask for email address alone or name and email address in an opt-in form.
Here's the picture of an opt-in form placed by author Meera Kothand on her website. 

Opt-in forms can be placed on a website on the main banner image, on sidebar widgets, just above the footer and even above your header.
10. Create a lead magnet
A lead magnet is any free giveaway that you offer in exchange of a lead.
For example, you can offer a free e-book download in exchange of the name and email address of your subscribers.
In the same way, you can offer free checklists, worksheets, email courses etc. in exchange of email contacts.
A lead magnet is set up with the help of an opt-in form, and your website visitors will have to enter their name and email address to get access to the free content.
Here's the picture of a lead magnet placed on this website.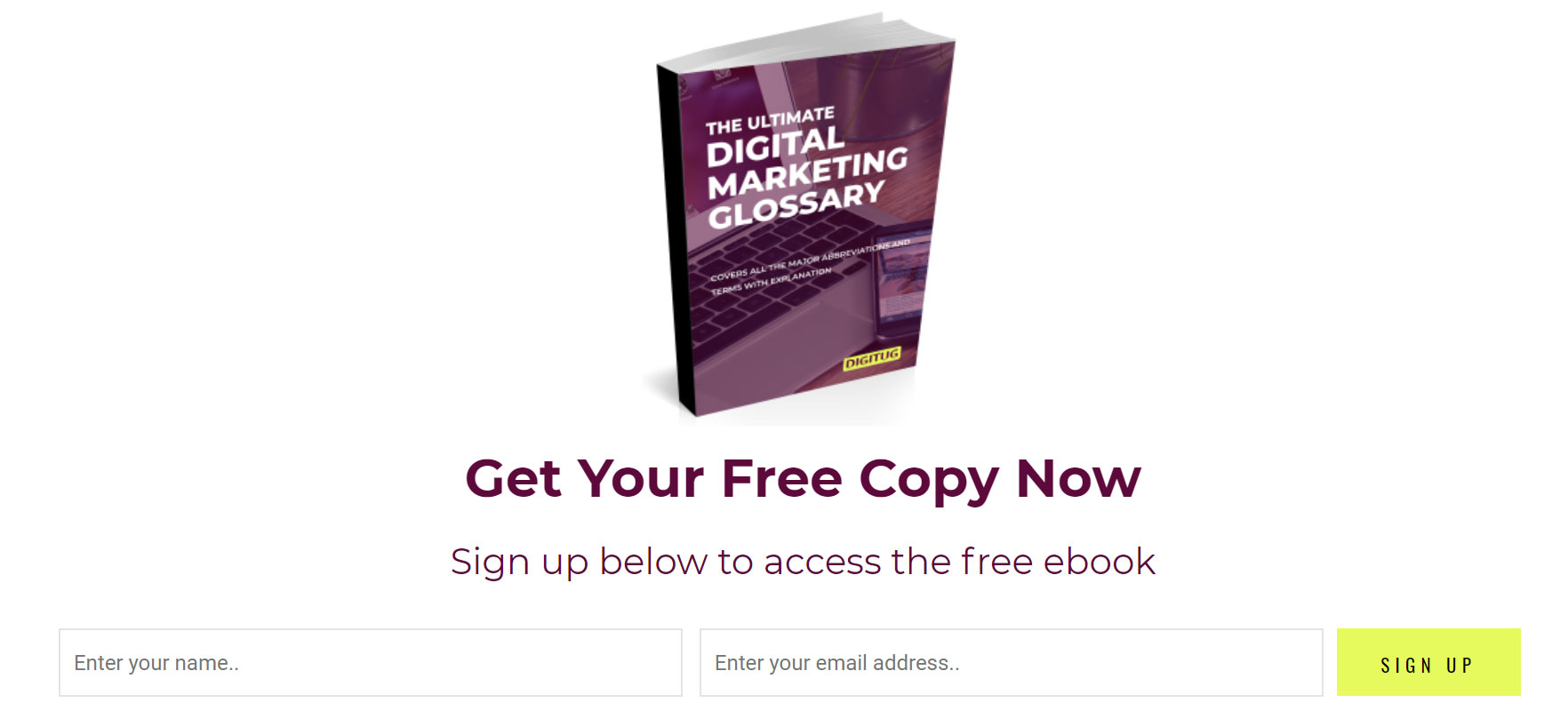 Lead magnets are one of the proven ways of adding new email subscribers and the conversion rate can vary depending on the quality, relevancy, and placement of your lead magnet.
11. Make use of a content upgrade
A content upgrade is similar to a lead magnet. You offer some kind of gated content, but in a slightly different way.
Here, you associate the gated content (eg. free ebook download) with a performing blog post or any other form of content that is published on your website.
And when people are done reading your blog post, you can offer them an additional benefit like a free e-book download or other bonus content related to the blog post in exchange of their email contacts.
Unlike a lead magnet, you have some kind of content here like a blog or video to attract readers to your website. Then you are offering an upgrade to this content by giving your website visitors an additional benefit like a free download or other bonus content.
If you have a blog post that is well performing on the search results and bringing in a lot of traffic, you can add a content upgrade to it and turn your readers into email contacts.
12. Don't buy email lists
Buying email lists is a bad idea.
When you buy email lists and send out mass email campaigns, you are literally spamming thousands of people who have not signed up or agreed to receive your email updates.
In regions like the European Union where GDPR laws are applicable, buying email lists and sending out mass email campaigns can attract huge penalties.
When you send out mass email campaigns to these email addresses whom you have not contacted before, spam filters are going to catch you.
And it can severely affect your domain and IP reputation and in turn your email deliverability.
Also, it could get your IP listed in some of the blacklists.
If this happens, it can almost prevent your emails from landing in inboxes.
If you are trying hard to build an email list, a bunch of trusted audience, and eventually a sustainable brand, buying email lists is one of the last things that you want to do.
13. Send an automated welcome email
How do you treat your newly added subscribers?
They would have seen your lead magnet (e.g. a free ebook) and then signed up to receive a copy of it and got added to your email list.
The moment they join your email list is the best time to grab their maximum attention to your content.
And the best way to do this is by sending them an automated welcome email.
The welcome email can be sent five minutes after people join your list.
Importantly, you should make sure the welcome email content is really attractive.
And it should ideally tell your subscribers the following;
Why should they be on your mailing list?

What emails are you going to send them?

How are these emails going to help them?
Make your welcome email content simple, appealing and to the point. And don't even think of being a little bit salesy.
14. Build and nurture your list
List building is a long term process.
You need to add new subscribers and nurture them regularly with value adding email campaigns.
Ideally, you should create an email marketing calendar for your monthly email campaigns. It will help you plan and schedule your campaigns based on content type, campaign sending date, type of audience etc.
To keep your audience engaged, you should be sending at least one email campaign every week.
If you go with not sending email campaigns to your list for more than 2 weeks, you are taking a huge risk of losing out engagement, and thereby your chances of conversion.
For example, in the case of bloggers, if you try to sell your own products or affiliate products to your email list, engagement is crucial.
That means, if you have a list where a good percentage opens, reads and even replies to your emails, the chances of people buying your products are more.
And to build engagement, you should first add value to them. You should be sending them content that offers valuable information that can solve their problems. This will help you build trust among your audience, and then converting them into a paying customer will be much easier.
I hope you're clear about the importance of building and nurturing an email list.
15. Enable double opt-in
Double opt-in is another tactic to keep your lists clean.
When you enable double opt-in, people who sign up on the form placed on your website will receive an email asking them to confirm their subscription.
And they will be added to your email list only if they confirm subscription by clicking a link in the mail they receive.
Now, here's why you should enable double opt-in;
It will get you relevant subscribers. Only people who are serious about your content will join your list. This will help you maintain a clean and engaging email list.

Keep spammers away. Entering random email addresses on your form is not going to work with double opt-in.

It has a positive effect on your domain and IP reputation.
16. Decide between text and HTML
There are multiple studies conducted over the text vs. HTML battle.
According to email marketing benchmarks published by Get Response in the year 2018, text-based content had an open rate of 17.80 %, and HTML templates had an open rate of 25.16 %.
You can check out the stats here. 
Let's just agree to disagree here.
Studies have always shown varied results.
From my own experience, I have mostly received better open rates on purely text-based email campaigns.
Especially, if your email list consists of a good number of Gmail users, a text-based campaign can really be beneficial.
It will help you avoid the Gmail 'promotions' tab and place your emails in the primary tab.
(We will discuss Gmail tabs in detail in the coming sections)
Again, if you must send pictures of your product to your email list, an HTML template is unavoidable.
Industries like e-commerce, where they put a lot of importance on product listings and offers, cannot really rely on text-based content.
17. Give proper line spacing
When you draft your email in the tool that you use, make sure you are giving enough space between the lines.
This might sound silly, but it actually has a strong impact on your readers.
Proper line spacing has the following benefits;
Helps the recipients in reading your emails effortlessly

Looks appealing (no one wants to even look at cluttered text)
And when someone reading your email for the first time likes the way you have presented it, he is going to open your emails again.
And if someone reading your first email finds it cluttered and ugly, he is not going to open any of your future emails.
It's pretty simple.
So, before sending out your real campaign, sending a test email will help you understand how the email is going to look in the recipient's inbox.
Based on this, you can make changes in the email body or structure if necessary.
18. Use merge tags (name tags)
A merge tag lets you personalize your email campaigns.
Different email marketing tools will have different names for this feature.
Here's the picture of a merge tag for first name in MailChimp.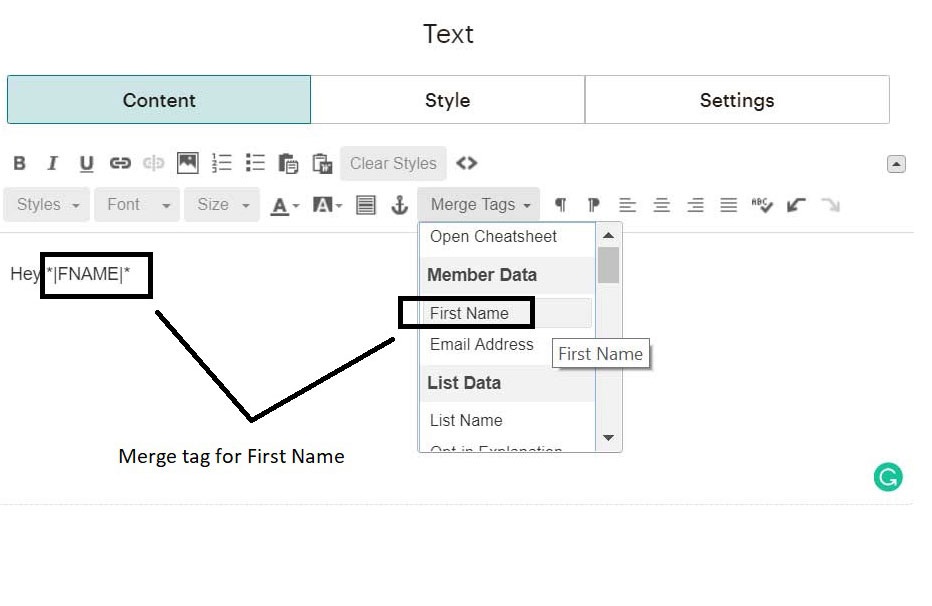 You can use merge tags for first names in three ways (I'm using the name Tom to show the personalization examples using merge tags)
To address your recipient by their first name
E.g. Instead of starting your email with Hey or Hey there, you can write Hey Tom or Dear Tom.
To personalize your subject line.
E.g. Instead of using a subject line like This SEO tactic will surprise you, you can go for a personalized subject line like, Tom, this SEO tactic will surprise you.
To personalize the email content.
E.g. You can use their names within email content to bring in more attention. You can write something like this; But Tom, these SEO tactics are not the only ones to follow.
Personalizing your subject line has a positive effect on your open rate. Addressing your recipients by their first name and using merge tags within email body will keep your subscribers more engaged.
And with name tags (merge tags for first names), you only need to have an email list with first names as another field along with email addresses. The tags will fetch email addresses and respective first names accordingly, and send out personalized email campaigns.
19. Use a personal sender name instead of your brand name alone
When you send an email campaign, make it look like it's from a real person.
There is a big difference between receiving a mail from Digitug and receiving one from Surej Shams.
Or you can make it a combination of these two.
E.g. Darren from ProBlogger (see the image below)

The 'from' part in an email campaign can be a person's name or a person's name combined with the brand name.
But make sure it is not just the brand name alone.
20. Make your emails CAN-SPAM compliant
CAN-SPAM stands for Controlling the Assault of Non-Solicited Pornography and Marketing. It is an act made in the year 2003 by the US Federal Government.
According to the CAN-SPAM act, every sender should follow certain rules and regulations while sending out a promotional email campaign.
Here's what you need to follow to make your emails CAN-SPAM compliant;
Send emails only on your behalf. Tell your recipients who you are, and use your own domain to send email campaigns.

Include a physical address at the bottom of your email.

Place a clear unsubscribe button within your email. Make it easy to unsubscribe.

Don't send misleading campaigns with false information.
Without following these regulations, it is almost impossible to even use any of the email marketing tools available today.
21. Avoid spam words in your content
You have to keep an eye on your email content.
The content has to be clean from any possible spam words.
Presence of such words in your content can affect your deliverability and open rate.
Words like make money, offer, buy now, million dollars etc. are examples of spam words.
You can use a tool like Quiteo to check the spam words in your email content.
22. Optimize your subject line
There are multiple ways to optimize your email subject line for a better open rate.
Here are some of the most important ones that you can try;
Use power words in your subject line
Make use of words that elicit excitement, curiosity or fear in your subject line.
E.g. Check out these on-page SEO tactics that will instantly boost your search presence
Here the word 'instantly' is a power word. If you need more such words, here's a list of more than 700 power words.
Use numbers in your subject line
Using numbers in the email subject line is a proven tactic.
E.g. 9 on page SEO tactics to try out on a new website
Adding numbers make your subject line more credible and can also improve your CTR.
Ask a question in your subject line
Questions can arouse curiosity in your email recipient.
Asking a question in your subject line will improve your CTR and thereby the open rate.
E.g. Have you tried this latest SEO tactic?
A/B Test your subject line
A/B testing will help you find out which one among the two versions of your subject line is working better in terms of its CTR and open rate.
And you can use the better performing one in your further email campaigns.
Most email marketing tools allow this feature today.
23. Make use of preview text
A preview text appears right next to your subject line in the recipient's inbox.
This is another chance for you to write something catchy to get your emails opened.
Here's how a preview text appears inside an inbox.

So, make the best use of your preview text.
24. Write email content to the point
Always make your email content to the point.
No one wants to read long boring emails.
Convey your points in shorter sentences and try to keep your language as simple as possible.
Those unwanted introductions and jargons will only make your emails dull.
25. Send multiple test emails
Before you send out your real email campaign, you have to ensure that it is error-free, responsive, attractive and readable.
The best way to do this is by sending a couple of test emails.
All the email tools have this option send out test emails.
It will show you how the email is going to look when it lands in your recipient's inbox.
A test email will help you make any changes in the design or content if it affects the user experience or readability.
Ideally, you should be keeping an eye on the following things in your email campaign.  
Spelling errors

Line spacing

Image/template responsiveness (on multiple devices)

Font sizes

Readability
26. Make your sign off attractive
What's so important about your sign off?
Well, a unique sign off can keep your readers hooked.
People will remember you for the type of content that you create and the way you put it out there.
For example, look at how famous blogger Harsh Agrawal does it.
He ends his emails by saying Ta Da.
And for Jon Morrow, his sign off is Talk Soon.
These small things will help you stand out in front of your readers, and they will remember you for your unique style.
27. Avoid Gmail tabs
Honestly, when I started email marketing, this has been my major hurdle.
A good number of my subscribers were Gmail users. And for many of them, the emails were landing in their 'promotions' tab.
Landing your emails in the 'promotions' tab will lower your open rate.
This is because most people pay attention only to the emails in their main inbox. Also, people who use Gmail app on their mobile devices to access their emails will not get notified (push notification) if the email lands in their promotions tab.
So here are a few tips to avoid the Gmail promotions tab;
Go for text-based emails. Avoid HTML templates

Use name tags (merge tags)

Avoid spammy or promotional words from the subject line and email body

Encourage replies from your recipients.

Ask for whitelisting (Ask them to add your email address to their contacts list)
28. Optimize sending times
The time when you send out your email campaign has a major role in deciding your open rate.
For example, if you send out a campaign on a Sunday afternoon, the open rate would not be something that you expect.
To avoid this confusion, you can always test your campaigns and find out which time works best for you.
And later schedule your campaigns on these 'best times' for better open rates.
Interestingly, there are a lot of studies published on sending time optimization for email campaigns.
And Coschedule has published an excellent blog post on email sending time optimization after considering 14 studies published by some of the major email marketing providers.
According to Coschedule, below are the best times to send out your email campaigns.
Best days in a week to send out email campaigns: Tuesday, Thursday and Wednesday
Best time slots in a day to send email campaigns: 6 am, 10 am, 2 pm, 8 pm, 10 pm
29. Segment your email list
You can segment your email list based on various criteria.
This can be based on things like their engagement, time they joined your list, the last purchase they made etc.
For example, you can send a separate campaign for all the people who joined your list in the last one week period.
Or maybe you can send a campaign to all the subscribers who regularly open and read or reply to your emails.
Segmentation is a really powerful feature of email marketing.
Not all your subscribers are equal. When you send them the right kind of content, that will make a big impact.
30. Purge your email list
The quality of your email list is really important.
To maintain only quality subscribers in your list, you can purge your email list.
This is done by removing subscribers who are not engaging with your email campaigns, that includes mainly people who haven't opened your emails for a really long time.  
These non-engaging subscribers may not be interested in your content anymore or would have subscribed with an email address which they are not using.
Purging your email list will help you improve your open rate which will have a positive effect on your domain and IP reputation and in turn your deliverability.
31. Make it easy to unsubscribe
According to CAN-SPAM guidelines, an email campaign cannot be sent without placing an 'unsubscribe' button within the email.
Ideally, you should make this process of 'unsubscribing' as easy as possible.
If someone wants to opt-out of your email list, they should be able to do it with just one click.
'Unsubscribe' options that are confusing and takes a lot of clicks to get out are a big NO.
If you make it difficult for your subscribers to opt-out, they might still receive your emails when they don't like it.
And guess what?
They could end up reporting your emails as spam, which can badly affect your email deliverability thereafter.
32. Send value-adding content
This is an important email marketing tip that every marketer should pay attention to.
Why do people subscribe to your email list or read your emails?
It is because they are interested in your content and they find it helpful.
No one ever signs up for your email updates only to receive promotional campaigns or sales emails.
This is where value addition gains importance.
The sole aim of your email campaigns should be value addition.
People should find your content helpful and it should help them solve their problems in real life.
This is will help you in building a bunch of trusted audience.
Once you have built a trusted audience, you can start offering them your products or affiliate products through your emails.
And obviously, every marketer finally aims at conversions. But before you hit your subscribers with sales emails, make sure you are providing enough value to them.
33. Place a maximum of two links in the mail body
Too many links in the mail body are bad for any email campaign.
But you can place a maximum of 2 links in the mail body.
More than 2 links can make your emails land in spam folders.
Also, avoid using anchor texts like 'buy now' that sound spammy.
34. Use Glock Apps for spam testing
Use a tool like Glock Apps if you want to know where your emails are going to land when you send a real campaign.
Glock Apps works by sending your email campaign to a seed list (a set of email contacts defined by Glock Apps) before you send it to your actual mailing list.
The seed list will contain email addresses hosted around multiple email providers like Gmail, Hotmail, Outlook etc.
After sending your campaign to this seed list, Glock Apps will tell you what percentage of your emails are going to land in inboxes, spam folders and even in Gmail tabs.
It will also tell you how each mailbox provider is going to treat your emails. For example, Gmail could treat your emails as spam, and the same email would simply land in the inbox for Hotmail users.
It will also tell you your domain reputation and whether your domain is listed in any of the blacklists.
Here is a sample report from Glock Apps.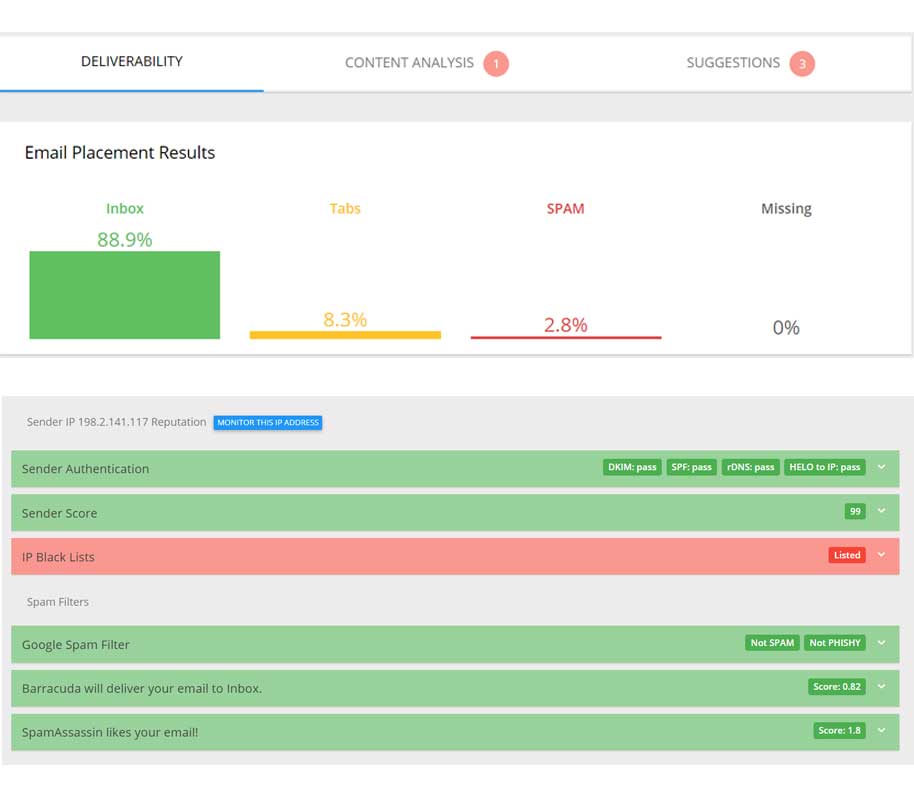 Glock Apps is a freemium tool. It will allow you to do 3 tests in a free plan. Above 3 tests, you will have to purchase a paid plan.
It really is a helpful tool to identify your deliverability, authentication issues, and any possible spam reports.
35. Check domain and IP reputation in Sender Score
Sender Score is a free tool that will help you check your domain and IP reputation.
The effectiveness of your email marketing revolves a lot around your IP and domain reputation. If you have a clean IP, that will deliver your emails better.
36. Choosing between shared and dedicated IP
Most email marketing tools work on a shared IP.
That means the IP that you send from will be shared among many users of the same email tool.
The problem with a shared IP is, your deliverability will also depend on the actions of other senders who are using the same IP.
For example, if someone using the same shared IP as yours is spamming people, that is going to negatively affect the reputation of that IP and in turn the deliverability of all senders under that IP.
But if you want more control on your deliverability and send large volumes of emails (more than 100,000 emails a week), you might want to consider using a dedicated IP.
There are some tools that allow this feature, but not all.
Tools like SendGrid allow usage of a dedicated IP at a cost of $30 per month.
So, depending on the current performance of your email campaigns and your sending volume, you can choose between a shared and a dedicated IP.
37. Use Barracuda to check domain and IP reputation
Barracuda is another helpful tool for all email marketers.
They maintain a history of IP addresses known for spamming activities.
You can check your domain and IP reputation using this tool, and it will also tell you if your IP is listed in any of the blacklists.
Depending on these results, you can take measures to improve your deliverability and open rate.
38. Use Postmaster Tools by Google
Postmaster Tools is helpful if you send a large volume of emails to Gmail users.
This tool will give you reports about your email deliverability, and based on these reports you can work on improving the open rate of your campaigns.
You can use Postmaster tools to get the following information;
Are your recipients marking your emails as spam?

Why are your emails not being delivered?

Are your emails being sent securely?
Also, it will tell you whether you are following the best practices set by Gmail.
39. Keep testing
Everything in Internet Marketing gets better with testing.
The same is applicable to email campaigns as well.
You can test your email marketing tool, your email content, your subject line, sending times and many others.
To get a good open rate, you might want to test multiple times. You can also rely on techniques like A/B testing to find out what works for your campaigns.
40. Reuse a format that works
Finally, if you find a set up that gives the best results, continue using it.
Maybe it is the tool that you use or a sending time that you tried previously.
Often we end up getting better combinations after multiple tests.
So if you find something working better, try to optimize it a little more and get the best out of it.
Just like every other trade out there, email marketing also gets better with time.
If you maintain a clean and engaging list and send out value adding campaigns, I'm sure you will see good results from email marketing.
Conclusion
Congratulations on making it till here. I know it's quite a long post. 
But if you have been struggling to see results from your email campaigns, I'm sure you will find these tips helpful. 
Got any queries or feedback?
Or do you need any help with your email marketing?
Feel free to comment below or reach out to me on mail@digitug.com
See you soon.
Disclaimer: This blog post contains affiliate links. Which means if you click on any of these links and make a purchase, I will make a small commission out of it, at no extra cost to you. Thank you for your support.